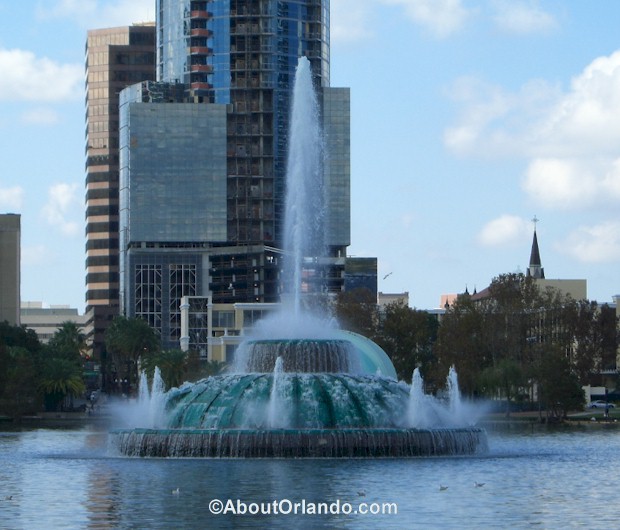 Downtown Orlando's Lake Eola Park
There is so much to love about Orlando's Lake Eola Park! From the weekly Orlando Farmer's Market to the beautiful iconic Lake Eola Fountain, the 43 acre downtown park has much to offer. Take an artsy adventure around the lake where you will find six of the SeeArt Orlando sculptures on display. Or, be part of the picturesque scenery as you explore the lake on one of the swan-shaped paddle boats that are available for rent.
Children of all ages will have fun feeding the live swans, ducks and other birds at the park. For running and playing, take the kids to the shaded playground at the west side of Lake Eola Park. The playground has different sections for toddlers and older children. Lake Eola Park is listed as having one of the best Orlando playgrounds.
Circling the lake is a .9 mile paved walkway for for strolling and jogging. There are plenty of shaded benches and grassy areas for people watching or relaxing.
During the week, when the park is less crowded, it is a great place to relax or photograph the "official" icon of the City of Orlando. Night time options might include dining at one of the many bordering restaurants offering a lake view of the colorful fountain. Though the best spot to view the nightly light and water show is at Relax Grill located on the north side of the lake. Each night there are two six-minute choreographed shows that are set to music.
It is estimated that over 2 million people attend the weekend events at Lake Eola. Come by for the weekly Sunday Market and you're likely to find any number of annual events occupying another section of the park.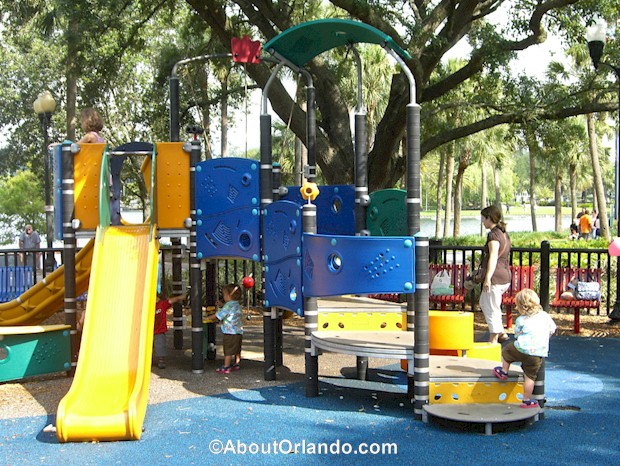 Parking for Lake Eola Park
Street parking is available around the park. For weekends and festivals, there are three parking garages located within a short distance to the park.
Library Garage – located between Rosalind & Magnolia at 112 East Central Blvd.
Central Garage – near Orange Ave. and Central Blvd. at 55 West Central Blvd.
55 West Garage – between Garland and Orange Ave. at 60 West Pine Street.
Annual Events at Lake Eola Park
Below is a listing of some of the more popular annual events at Lake Eola Park. More will be added as they become available.
More to Note
The park consists of 14 areas that are available for rent. Visit Lake Eola Park for more information.
The original iconic fountain was built in 1957 and refurbished in 2011.