Location and Population of Eatonville
Town of Eatonville
, which currently has and estimated popularion of 2,100 people, is located in Orange County about 5 miles north of Orlando and just south of the City of Maitland. The major access road, Kennedy Blvd, runs through the heart of Eatonville, linking west to SR 17-92 and east to Rt 434.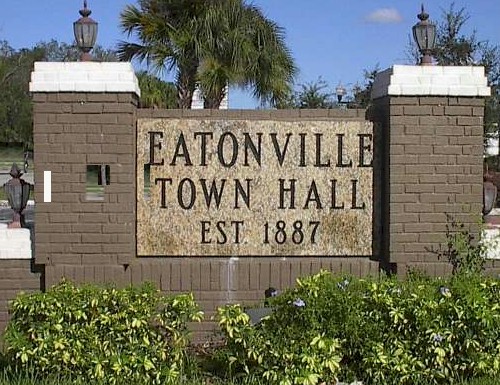 History of Eatonville
In 1882, during the period of Reconstruction after the Civil War, Joseph C. Clarke began selling land, which he had purchased from Maitland Mayor Josiah C. Eaton. This land was sold to black families from Maitland, Winter Park and Orlando. The 112 acre town of Eatonville, became a reality in 1887, as 27 black men, all who were registered voters, met and voted to incorporate the town. By their action, American history was made. Eatonville became the first incorporated African-American community in the nation. Of the approximate 100 such communities created during that time period, Eatonville is only one of about a dozen remaining today.
Notable Eatonville Residents
Zora Neale Hurston
Writer, folklorist and anthropologist,
Zora Neale Hurston
, was raised in Eatonville, Florida. Closely associated with the Harlem Renaissance of the 1920's, she is today considered one of the leading writers of 20th century African-American literature. Best known for her novel,
Their Eyes Were Watching God
, her career spanned more than 30 years. In addition to her four novels, she also published two books of folklore, an autobiography, numerous short stories and several essays, articles and plays.
David "Deacon" Jones
Born in Eatonville in 1938,
David "Deacon" Jones
, a former defensive end in the NFL, played for the San Diego Chargers, Los Angeles Rams and the Washington Redskins. Jones was inducted into the Pro Football Hall of Fame in 1980 and is considered to be one of the greatest defensive players ever, Jones earned the nickname the "Secretary of Defense".
Russell and Mary Calhoun
After attending Tuskegee Institute in Alabama,
Professor and Mrs. Mary Clinton Calhoun
came to the Town of Eatonville and founded the first school for blacks in Central Florida, the
Robert Hungerford Normal and Industrial School
. The land, 160 acres was donated to the Calhouns by Mr. E.C Hungerford who owned a winter home in Maitland, FL. Built in 1897, the school was initially designed for a handful of students, but by 1927 the attendance had grown to over 100 boarding pupils, also offering night classes for adults. In 1950 the courts gave the school to Orange County as a public trust, and it then became the Robert Hungerford Preparatory High School. In 2009 the school was closed due to low attendance and increasing costs.
Annual Events in the Town of Eatonville
The
Zora Neale Hurston Festival of the Arts and Humanities
is an annual event celebrating the cultural contributions people of African descent have made to the United States and to world culture. This internationally recognized event is held in late January each year. Over time, the festival has grown in size with acclaimed speakers, forums and an outdoor festival with music and entertainment. The life and works of Zora Neale Hurston along with the many contributions of African-Americans to American culture is celebrated during this 9 day event.