Event dates, prices, and activities listed are subject to change without notice.
Check the web site or call to confirm information.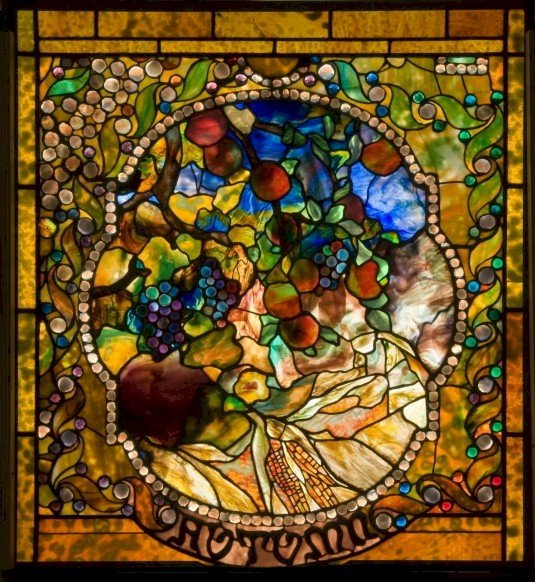 © Charles Hosmer Morse Museum of American Art, Autumn panel from the Four Seasons Windows
Celebrate November in Orlando
What seemed like a never-ending string of Halloween celebrations (yes, many started in mid-September) is finally over. All shopping centers have gotten the unofficial go-ahead to start with the piped in Christmas music and hordes of holiday decorations.Our weather may not show it, but winter is just around the corner. For a kinder and more gentle way to ease into the final months of 2019, here are a few Orlando events that are worth checking out during the month of November.
I will be taking a break from updating the monthly calendar to focus on my new blog
Quick.Tips
.
Visit Orlando Weekly for things to do this month
.
Recommended November Events in Orlando
Free Fridays at the Morse
If you have never visited the exquisite Charles Hosmer Morse Museum of American Art in Winter Park, now is the perfect time. The museum offers free admission on Friday evenings from 4 – 8pm with live chamber music on select evenings. Make it a date night by starting out with a relaxing stroll through the museum to view the magnificent works of Louis Comfort Tiffany. Park Avenue has a great selection of restaurants for dinner then finish the evening off with a stop at the Wine Room or some chocolate treats from Peterbrooke Chocolatier. Preview the music schedule at the Morse Museum. November through the end of April.
PlayFest!
A collection of new plays presented over four days at PlayFest!. There will be readings, distinctive panels and lively parties, giving audiences the opportunity to be part of the new play development. This annual event is held at the Orlando Shakespeare Theatre. See the full line up of Orlando Theater for November. Weekends in November TBD.
Festival of Trees
Kick of the holidays at this annual celebration of the season at the Orlando Museum of Art. For nine days, the museum is transformed into a glittering holiday wonderland. A little bit of everything can be found here, from designer decorated trees and vignettes that are available for sale, to a children's Toyland Town & Shop where little ones can meet with Santa and create their own holiday decorations. Special activities also take place during the event, including the opening night Great Gala and the popular Reindeer Romp. For times and event prices, visit the Orlando Museum of Art. November 16 – 24, 2019.
Orlando Attractions in November
More Orlando Links for November: