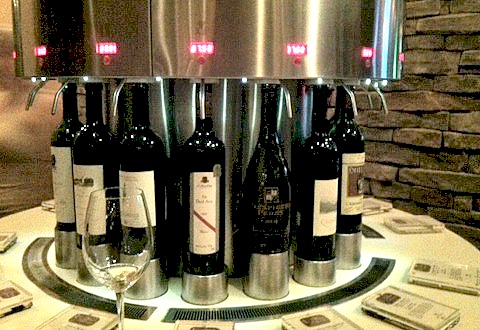 What's Nearby:
Park Plaza Gardens
Prato
Paris Bistro
Reminiscent of a European wine cellar with exposed bricks, arched doorways and subdued lighting, The Wine Room on Park Avenue is inviting and comfortable. This delightful venue was created to showcase a great concept in wine-tasting, and is perfect for a quiet after-dinner drink, as well as a fun place to meet with a group of friends.
The Wine Room is popular as an affordable way to explore the world of wine. With over 148 choices available, it is easy to sample a few before selecting a favorite for the evening. Dispensed in 1oz, 2.5oz & 5oz pour sizes through Wine Tasting Machines, each pour is maintained at the appropriate temperature and kept fresh through the wine-preservation system. It is a great way to try something new – explore and experiment while learning about different wines. Already have a favorite wine that you would like to enjoy ? At The Wine Room Store you can purchase a bottle at a retail cost and have it served to you for a $10 corkage fee.
The self-service wine dispensing stations are grouped by varietal (Chardonnay, Cabernet Sauvignon, Pinot Noir, Sauvignon Blanc, etc.), and are easy to operate with your "pre-purchased wine credit card." You will be sure to find something to your liking.
There are high-top tables and counter-top seating in the bar room, and a separate tasting room with lower seating areas – separate "conversation groupings" with comfortable sofas and chairs. Wine Tasting Machines are located throughout the venue and line the walls, along with rows of bottles available for purchase.
To complement the wine, the Wine Room offers Flights of Fromage – choose a platter consisting of 1, 3 or 5 selections from the extensive list of Artisan Cheeses. For lunch or a little larger evening snack, choose from the menu of Starters, Sandwiches and Flat Breads – average price is around $10.
HOW IT WORKS:
The first step is to purchase wine tasting card for $3.00, then add any amount you like to the card. This is a great way to budget your evening and avoid 'sticker-shock' at the end of the night. You simply "pay-as-you-go" for the wine. The wine card can be replenished throughout the evening, and can be reused for future visits. To taste or "purchase" the wine, simply step up to one of the many Wine Tasting Machines located around the room, insert your wine card and select the pour size that you would like. It is all easily accessible, even by the "technologically challenged," plus there are plenty of helpful staff (and friendly patrons, too!) to help you. A word of advice here: don't leave your card in the slot, or else the next round might be "on you!" Orders taken by a waiter from the menu for food or drinks not distributed through the Wine Tasting Machines will not use the wine tasting card, and are paid for separately.
Not a Wine Drinker? Never fear, you can also find a selection of specialty beers on tap, along with an interesting mix of imported bottled beer, all reasonably priced.
Why do I like The Wine Room? The décor and atmosphere remind me of a French wine cellar. It is easy to move around and mingle with others and talk about wine. The self-serve feature encourages me to read a little about the wines, the winemaker and the tasting notes from The Wine Room. A visit here can be a quick "stop-in" before dinner on Park Avenue, or a "target destination" for an full evening outing with friends.
TIPS:
Good deals can occasionally be found on Groupon for The Wine Room – sometimes including a cheese sampler platter and a tasting card pre-loaded with a set amount, discounted of course.
Normally a corkage fee for a bottle purchased from The Wine Room Store is $10 – though the corkage fee is waived on Sunday and Monday (please call to verify.)
GOOD TO KNOW:
Opened on Park Avenue in 2006.
The Wine Room is open for lunch on Friday and Saturday with later hours those nights.
Provides a comfortable setting for a "girls night out."
For group outings, call in advance to reserve an area for your party.
Outdoor seating on Park Avenue.
PRIVATE PARTIES:
The Vault – Located underground, an actual walk-in, soundproof is available for parties and special occasions. Large group functions can be set up to include flavorful wines paired with menu items. Great for corporate gatherings , birthdays, anniversaries, , wedding receptions, charity events, graduation ceremonies. The Vault includes a DVD player with A/V capabilities and a 42″ plasma flat screen television with surround sound.