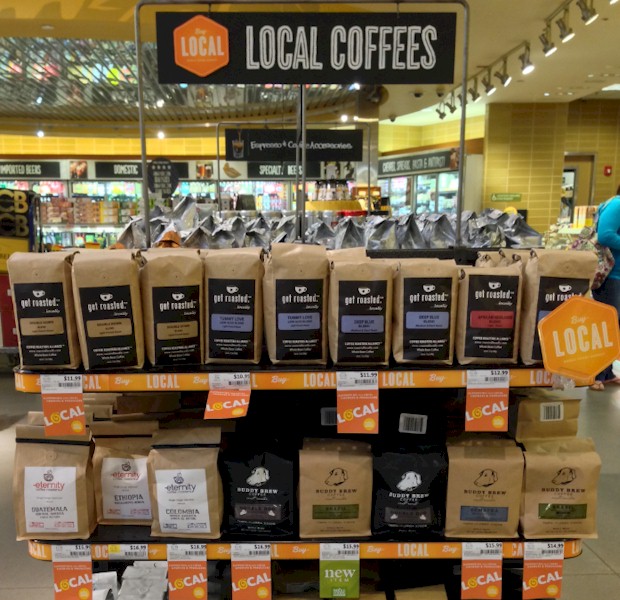 In the Orlando area, you'll find four
Whole Foods Markets
. The first Central Florida location of Whole Foods opened in 1998 on Aloma Avenue in Winter Park. It has been a long-time favorite for those shopping for healthy products and organic items. Since that time, three other locations have opened up in Orange and Seminole Counties. The Whole Foods Market on the corner of Sand Lake and Turkey Lake Road has provided easy access from International Drive and I-4 making this location a popular shopping destination for Orlando visitors and nearby residents.
The Shopping Experience
Departments include Bakery, Beer, Cheese, Coffee & Tea, Floral, Grocery, Meat & Poultry, Prepared Foods, Produce, Seafood, Wine, Whole Body.
Whole Foods is one of the largest retailers of natural and organic foods so don't expect to find all of your usual grocery store items. The emphasis here is on healthy options. Check out their website and you'll find a list of products that Whole Foods considers unacceptable ingredients for food and are therefore not carried in their stores. You'll be paying a little bit more, but what you get may be worth it. Each Whole Foods Market offers locally grown or locally prepared products. Coffee lovers will appreciate the wide choice of quality options, including fair trade and organic varieties. The aromatherapy department of the store is hard to miss. The natural, clean scents entice you to check out the Whole Body isles.
Dine In or Take Out
You'll be impressed with the large and appealing selection that is available in the Prepared Foods department of the store. I suggest that if you are hungry you head directly to the isles of freshly prepared soups, salads, pastas, meats and so much more. Package up as much as you like of whatever you are in the mood for and take it to the nearest register to check out. If you are not there for just quick take-out, you can enjoy your meal in the comfortable dining area near the front of the store . Be warned: You may be tempted to take more than you can eat – and keep in mind that for many items, you will be paying by the weight.
Amazing Desserts
Oh the breads, cakes, cookies and cupcakes! With so many options you'll be tempted to try a few. The online recipes for some of these delicacies might be worth a try, but the convenience and selection make ready-made hard to pass up. Have allergies? Check out their Gluten Free Bakehouse for a large selection of fresh items that will meet your health needs.
Wine and Beer
The best one-stop location for a great selection of well displayed wines from all over the world. Pair this with some make-it-yourself appetizers – including an olive bar where you can mix and match your favorites. Freshly sliced cheeses are packaged in a variety of sizes for individuals or larger groups. Perfect for visitors on vacation.
Even More
Whole Foods Markets are open from 8 am until 10 pm seven days a week. In need of a little relaxation?
Take 5 Massage
is open daily from 10 am until 9 pm at all Whole Foods locations offering 10, 15, and 25 minute chair massages. Whole Foods Markets gives back to the community with free classes for adults and children – some require advance registration, others where you can simply drop-in.
Is Whole Foods Overpriced?
Without a doubt, there are many items that are priced way higher than other grocery stores such as Walmart or Publix. Sure, this is a trendy shopping experience, but that is what is part of the draw here. If price is the main motivator for where you shop, this article form House Beautiful does a good job listing
The Only Things Your should Ever Buy From Whole Foods
.
Whole Foods Market, Orlando Area Locations
Only four minutes from most Orlando area attractions, the Whole Foods Market Phillips Crossing is on the corner of Sand Lake Rd and Turkey Lake Rd.
8003 Turkey Lake Road
Orlando, FL 32819
Phone: 407-355-7100
At the intersection of Lee Road and HWY 17-19.
1030 N. Orlando Ave
Winter Park, FL 32789
Phone: 407-377-6040
In Altamonte Springs on HYW 436.
305 East Altamonte Drive
Altamonte Springs, FL 32701
Phone: 407.767.2100