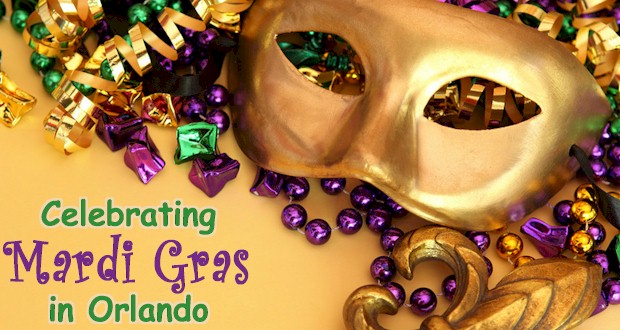 6 Ways to Celebrate Mardi Gras in Orlando
Another reason to party in February! Mardi Gras or Fat Tuesday is February 25, 2020. Get wild and crazy or just enjoy some good New Orleans inspired home-cooking.
Check out all the February Events in Orlando.
Mardi Gras, Fat Tuesday Day Events in Orlando
Universal Orlando : Select Dates Feb. 1 – April 2, 2020
The biggest Mardi Gras celebration in Orlando can be found during sixteen nights of concerts, parades and festivities beginning February 1, 2020 and continuing on select evenings though April 2, 2020. Visit the French Quarter Courtyard for sizzling Cajun and Creole Food and authentic zydeco bands directly from New Orleans. Admission to the special evening events is included with your park admission or annual pass.
Orlando Pub Crawl: February 22, 2020
A Masquerade Crawl adventure takes you to four Orlando night clubs. Wear your Mardi Gras attire for a night of social Crawlin.
Wall St. Plaza : February 22, 2020
Just for practice, join in on the Pre Pardi Gras event on Saturday, February 6, 2016 with Beads, Booze, Bands and Block Party. The party kicks into full throttle on February 9th when Wall Street is transformed into Bourbon Street for Downtown Orlando's largest Mardi Gras party.
Fat Tuesday : March 1, 2020
You can't go wrong celebrating Mardi Gras at The House of Blues Courtyard with a 5 day long celebration. The event will include live music and fun giveaways with nightly drink specials.
Tibby's New Orleans Kitchen : February 9 – March 5, 2020
Celebrate Fat Tuesday with a special Happy Hour at two Orlando area locations, Altamonte and Winter Park. Please call in advance to confirm specials and live music schedule.
Lake Nona Town Center : March 3, 2020
A family friendly celebration with live music, stilt walkers jambalaya and much more.
Mardi Gras for the Kids