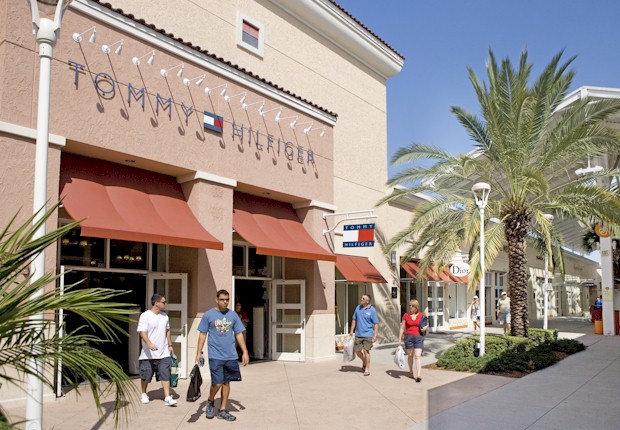 Shoppers can find name brand bargains year round at these two popular Orlando outlets.  Both malls are fairly convenient to the Orlando area attractions and  just off of I-4.
For some Orlando visitors it seems as if a day spent shopping the outlets is just as important as the theme parks. Any time of the year, there will be travelers from all over the world searching for favorite designer brands to bring back home.
Sections of both outdoor malls do provide some shelter from the rain, therefore making them a popular alternative to a theme park on a rainy day.
FOOD AND DRINK:
Both malls have an indoor food court with plenty of options for fast-food dining. You can also find lots of drink machines located at the outlets with soda and water – but be forewarned these will generally run you around $2 each. When I shop at the Orlando International Premium Outlets, I generally bypass the food court for a nice sit-down lunch or dinner at
Vinito Ristorante
.
EXTRA WAYS TO SAVE:
At the customer service desk, you can purchase a VIP Coupon Book for $5. Usually the savings at one store will justify the cost book. If you have a AAA membership you can get a free coupon book at both Orlando Premium Outlets – and that's a deal you can't beat!Check for the best deals before even leaving the house by signing up on-line for the VIP Club. Along with receiving email notifications of store specials you'll also have access to online coupons. When you sign up, you will also receive a voucher for a free VIP Coupon Book.
BUYER BEWARE:
It helps to know your prices! Don't just assume that because you are in an outlet that you are getting an outstanding deal. I found a lingerie item at a local Walmart that was 60% less than the outlet price. The deal was even better on the stores website.
If you have any doubts about a purchase, be sure to ask about the return policy. Often times you will not be able to return the item at your local mall, since outlet shops carry different merchandise and run different specials.
TIPS FOR PARKING:
Parking is a nightmare at both outlets. The Vineland location does have a parking garage which helps a little, but you may still find yourself circling the lot for a while. My best advice, go during non-holiday times and avoid the weekend. Earlier in the day is also better than the afternoon. If you are staying at a local hotel, check first for shuttle service to the outlets. The I-Ride Trolly also stops at both outlets, though your purchases will be limited to what you can carry.
Vineland Trolly stop #42
International Trolly stop #1