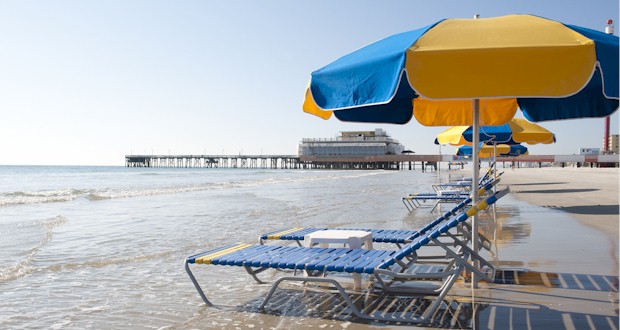 Daytona Beach
Let's face it: When you think of Orlando it's usually the man-made attractions that come to mind – not the tropical getaway that's just around the corner. How far is it from Orlando to the Beach?  By taking an hour drive out of town you can transform the scenery from one of mundane routine to that of palm trees and white sand combined with the relaxing sounds that the ocean brings. Some of Florida's best beaches are within a relatively short drive from Orlando. See the
driving distance from Orlando to the Beach
.
Daytona Beach
This well known beach didn't get the reputation as "The World's Most Famous Beach" by being a wallflower. When you think Daytona, immediately auto racing, spring break and bike week come to mind. It is these events that bring over 8,000,000 visitors to this beach each year. This is one of the few Florida beaches with hard packed sand that allows for driving on the beach. The area offers a variety of annual events and an abundance of activities geared for families, including the recently renovated Daytona Beach Pier.
More: Daytona Beach is home to the Daytona International Speedway, and the headquarters for NASCAR and the Grand American Road Racing Association. Located 10 miles south of Daytona Beach you'll find the Ponce Inlet Lighthouse and Museum which was designated as a National Historic Landmark in 1998.
Directions: From the attraction area, you'll be looking at a 90 minute drive to the beach. The easiest way to get to Daytona Beach is by taking I-4 East (around 50 miles). Take exit 129 and follow W International Speedway Blvd to the beach.
New Smyrna Beach
A quiet, small town during the week that brings in crowds of locals on the weekends. The hometown charm of New Smyrna Beach attracts Central Florida residents with its eclectic shops, quaint diners and lush landscapes. About 20 miles south of Daytona Beach, this beach features 13 miles of white sand making it an ideal place to bring the kids. Traffic-free zones on the beach are available at several locations.
One of the best spots to park is at the public lot on 27th Ave. The area south of this lot is designated as a traffic-free zone. This public area also contains picnic benches, showers and restrooms. There are plenty of family friendly hotels and condos that are within walking distance of the beach. Try The Garlic restaurant for authentic Italian dining and great live music most evenings.
More: Home to the Atlantic Center for the Arts.
Directions: It's just about an hour drive from the downtown Orlando area to New Smyrna Beach, depending on traffic. Take I-4 East (though you are really driving North) to exit #118 A-B for Florida 44 towards New Smyrna Beach/DeLand Historic District. It's a long ride on FL-44 E (around 20 miles) but this two-lane road will take you right to the beach.
Cocoa Beach
A complete beach vacation destination with an abundance of hotels, restaurants, shopping and attractions. Cocoa is the closest beach to the Orlando area attractions – less than an hour drive. As the popularity of the beach and town have grown, so have the amenities and activities. Any time of the day you will find plenty of sporting activities taking place on this active beach – volleyball, football, biking, boogie boards. Didn't bring it? Don't worry, you can rent it. Sports kiosks and surf shops can be found along the beach. While there be sure to stop in at the legendary Ron Jon Surf Shop, a Coco Beach icon since 1963.
More: Cocoa Beach is the closest beach to Port Canaveral.
Directions: Take the Bee Line Expressway east until it ends at A1A. Follow A1A for about 5 minutes and to the center of Cocoa Beach.