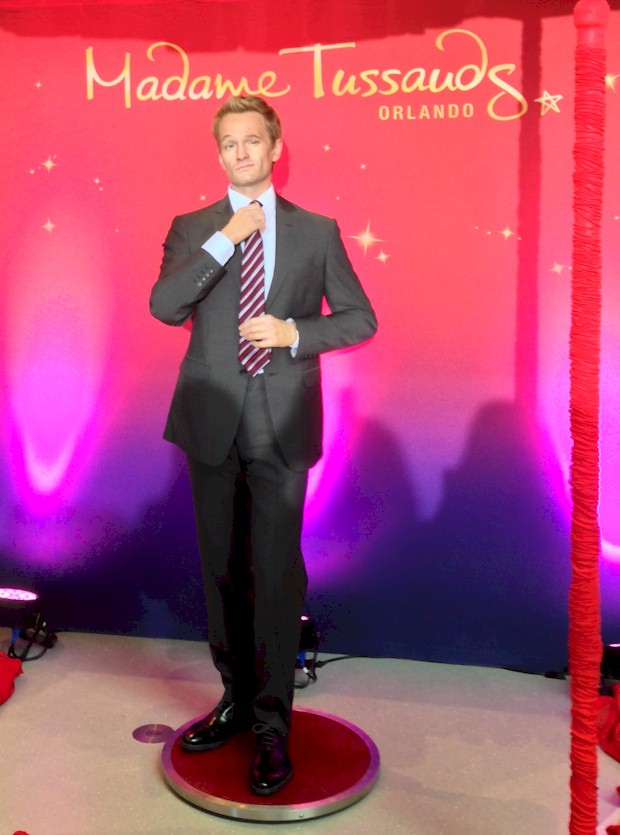 At Madame Tussauds Orlando you can get up-close and personal with your favorite celebrities from film and television, sports icons, musicians from all genres, and notable figures from history and pop culture.
Opened in May of 2015, Madame Tussauds on International Drive in Orlando marks the sixth location for this popular wax museum in the United States and the 20th in the world.
Life-like figures are positioned in themed areas throughout the attraction, some standing ready to take a photo with you, others in action poses for which they are best known.Small sets are displayed around many of the wax figures so that you can stage yourself in the picture:
Join Audrey Hepburn for a cup of tea on the set of Breakfast at Tiffany's.
Have a seat next to Oprah as her next interviewee.
Get into the action with Orlando sports personalities, Tiger Woods and Shaquille O'Neal.
Have a political discussion with presidents Abraham Lincoln or Barack Obama, each placed in a characteristic vignette of their era.
Preview some of the amazing wax figures that you'll find at Madame Tussauds in Orlando. Click on an image below, or select the slideshow to view them all.
You'll even find a wax figure of the famous French Madame herself, posed over her work table.
What started out as a touring exhibit of wax figures created by Madame Tussaud in the late 1700's has turned into a great collection of wax museums world-wide.  Originally a commentary on the notorious criminals and political figures of the time, the museum has evolved into an A-list of celebrities.
The positioning of the wax figures and small sets encourage photo taking.   Themed rooms include A-List Party, History & Leaders, Sports, Music and Authentic History.  You can get next to the wax figures; touching, hugging and shaking hands.  You'll see lots of hesitation in guests as they move close to the wax figures.  Some of the recreations are so life-like, almost to the point of being scary-accurate.  Others are not quite so spot-on, but still impressive none the less.
If you have visited other Madame Tussauds, you'll find some of the biggest stars and celebrities often find their way in multiple museums.  Each wax figure is still a unique creation (not mass produced!) and is displayed in a different pose and costume.
The 25,000-square-foot indoor attraction which includes a retail store, offers a video presentation about the history of Madame Tussauds and how wax figures are created. If you are looking for an interesting souvenir of your visit, consider having your hand cast in wax which is then used to create a 3-D mold.
How much time should you allow for your visit to Madame Tussauds?
If you enjoy taking photos and not feeling rushed, you should plan about 2 hours for your visit to Madame Tussauds Orlando.  It the museum if crowded, you'll want to give yourself enough time to take pics with your favorite celebrities.
Interesting Trivia:
It takes 3 – 4 months for a team professional artists and sculptors to create one of Madame Tussauds wax figures using over 200 different body measurements.
Wax figures at Madame Tussauds have real human hair.
For the attraction name, there is not apostrophe in Madame Tussauds.
Madame Tussauds learned her wax modeling trade from a physician in Switzerland where her mother worked as a housekeeper.
Though she was born in France, Madame Tussaud's first museum was in opened in London in 1836.  Before that, she displayed her craft through traveling exhibits.