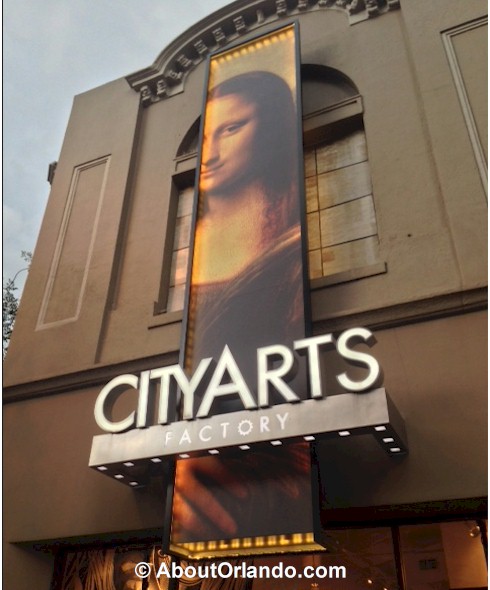 Operated by the Downtown Arts District, CityArts Factory was established in 2000 as a venue to showcase an infusion of local and international works of art. The 20,000 square-foot multi-use arts and cultural space is located in the heart of Downtown Orlando on the corners of W. Pine and Orange Avenue.
The Downtown Arts District, a not-for-profit 501(c)3, is comprised of a series of cultural communities comprised of visual arts, literature, the performing arts and culture-related retail businesses.
GOOD TO KNOW:
The building is comprised of 6 Art Galleries, a Photography Studio, Barnie's CoffeeKitchen
SAK Comedy Theatre is on the second floor of the building
CityArts Factory is open Tuesday through Saturday from 11:00am until 6:00pm.
Free admission!
Park at the Plaza Parking Garage and bring your parking voucher to the welcome desk when you arrive for a flat rate of $4 per day. (Please note, prices are subject to change)
CityArts Factory can be rented out for private events.
Third Thursday Gallery Hop:
If you've never been, be sure to put the Third Thursday Gallery Hop on your list of things to try out in Orlando. This monthly, free event begins at 6:00pm at the CityArts Factory where you can pick up a listing of participating area galleries and shops. Spend some time previewing the featured artwork in the six showrooms before venturing out to some of the other listed venues that feature artistically-inclined exhibits and collections.
As the evening wears on, the galleries at CityArts can become rather crowded – you are almost certain to run into someone that you know.  You may encounter a local artist, happy to share information about his works on display. There were parents exploring the world of local art with their kids, retirees out for the evening and after work business folks.  Attire ranges from suits to shorts.
The evening that I attended the Third Thursday Gallery Hop there was a photography exhibit titled 'The Best of DTO', that was a collection of submitted photos taken in Orlando. This exhibit was displayed in the largest gallery and garnished the most attention that evening. Hundreds of creative images of downtown lined the walls and included everything from a swan's silhouette at
Lake Eola Park
to some of the outdoor
See Art Orlando
sculptures. I spent an hour previewing the creative photos guessing where and when they might have been taken.
It was an enjoyable Thursday evening outing. Easy going with a laid back crowd that was made even more enjoyable with the option of beer and wine. In addition to donations that are collected by the door, CityArts also sells wine, beer and water ($4, $3, $1) making this a very inexpensive date night out in Downtown Orlando. There is not any food sold at the event, so you may want to grab a snack beforehand.
I parked at the library parking garage on Central Blvd for $2 an hour. Parking is also available at the Plaza (entrance from either E Pine or E Church). Bring your parking pass to be validated for a discounted rate.
Suggestions:  Wear comfortable shoes if you plan on walking to all the galleries on the list.  You may also want to bring a bag  (or in my case, just a larger purse) to carry the brochures and freebies that you may pick up throughout the night.
DIRECTIONS:
Heading South on Orange Avenue, CityArts Factory is on the NE corner of W. Pine Street and Orange Avenue.