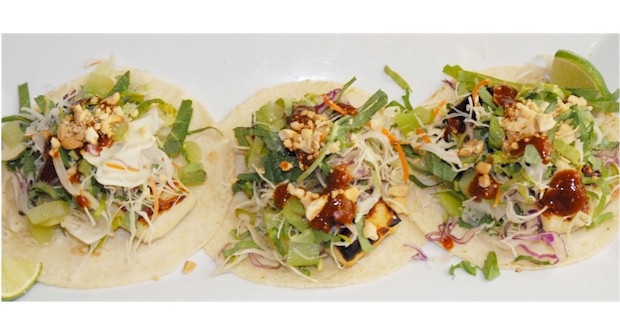 Celebrate
National Hot & Spicy Food Day
in Orlando on
August 19th
at
Cocina 214
in Winter Park. This year Cocina 214 is showcasing their Morita Salsa, a spicy, flavorful salsa that is a featured ingredient alongside their Coastal Slaw with Kale in the new Grilled Brun-Uusto Cheese Taco.
Cocina 214
has shared the following recipe for their new Grilled Brun- Uusto Cheese Taco.
Recipe for Grilled Brun-Uusto Cheese Taco
(3) 1.7 oz pieces Brun-uusto Cheese- Grilled
.5 oz chopped baby kale
.5 oz peanuts
1.5 oz cabbage mix
2 oz diced chayote
1.5 oz Morita salsa
Corn tortillas
Grill the 3 pieces of cheese for 3 minutes on each side. Place the cheese in the middle of each corn tortilla. Place the cabbage mix and baby kale on top of the cheese. Place the diced chayote on top and drizzle the Morita salsa on top. Finish off with toasted peanuts on top.
Cocina 214
407-790-7997

151 Welbourne Avenue East
Winter Park, FL 32789
Cocina 214
is a contemporary Tex-Mex and Mexican kitchen located in Winter Park. The restaurant was opened by two Texas natives who, upon coming to Central Florida, missed the Mexican and Tex-Mex style food they grew up eating. They wanted to create a place that would provide the same authentic, fresh and quality food. Now Cocina 214 brings together bold flavor and the freshest local ingredients to create the delicious Tex-Mex dishes so many in the Winter Park area have come to love.