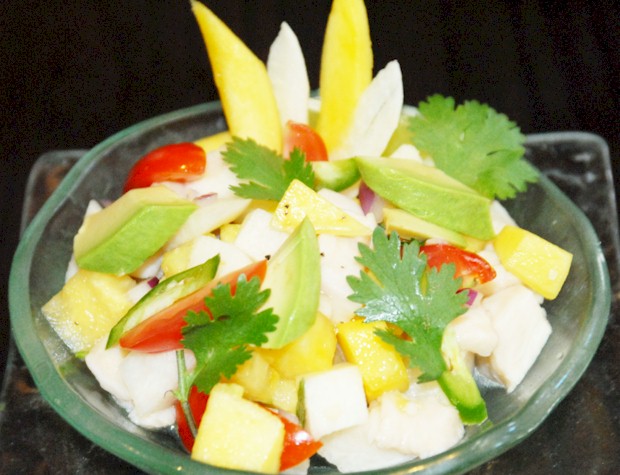 Celebrate
National Ceviche Day
in Orlando on
June 28th
at
Cocina 214
in Winter Park where they will honor the day by serving a unique Summer Ceviche from 11am until 10pm.
A flavorful dish that uses fresh ingredients, Ceviche is a staple in Mexico. The key to preparing Ceviche is the lime juice which actually 'cooks' the raw fish.
Cocina 214
has shared the following ingredient list so you can make this Summer Ceviche recipe yourself.
Ingredients for Summer Ceviche Recipe
Fresh Tilapia
Fresh lime juice (enough to completely immerse the fish)
Purple onion
Avocado
Jalapeno
Grape tomatoes
Cilantro
Mango
Pineapple
Salt to taste
From Cocina 214 Business Manager and Partner, Lambrine Macejewski: We stick to tilapia because it is a fish that most will enjoy and since it is available year round our ceviche dishes maintain a consistent flavor and texture. For those making this dish at home, she suggests using any favorite fresh fish, but a white fish with a mild flavor and good consistancy is recommended. Using fish that is too fragile can become rubbery or even dissolve while marinating.
According to Macejewski, the mango and pineapple add sweet flavors to more traditional ceviche dishes without overpowering them. They complement the citrus flavor from the lime juice and add a refreshing twist that is perfect for summer.
At Cocina 214, ceviche is made in batches to accommodate restaurant patrons. Ceviche is one of the most popular dishes at Cocina 214, so fresh ceviche dishes are prepared regularly.
Cocina 214
407-790-7997

151 Welbourne Avenue East
Winter Park, FL 32789
Cocina 214
is a contemporary Tex-Mex and Mexican kitchen located in Winter Park. The restaurant was opened by two Texas natives who, upon coming to Central Florida, missed the Mexican and Tex-Mex style food they grew up eating. They wanted to create a place that would provide the same authentic, fresh and quality food. Now Cocina 214 brings together bold flavor and the freshest local ingredients to create the delicious Tex-Mex dishes so many in the Winter Park area have come to love.