Event dates, prices, and activities listed are subject to change without notice.
Check the web site or call to confirm information.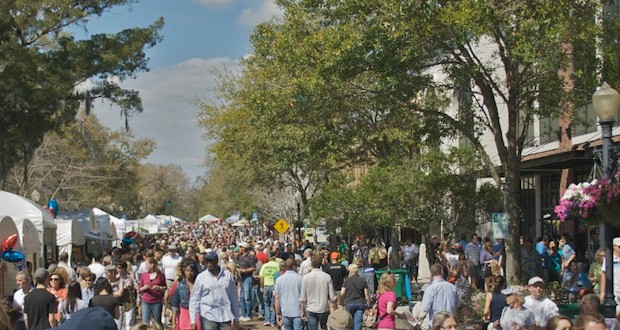 Celebrate March in Orlando
Ah,the beautiful weather in Orlando this time of year. Average temperatures for March; high of 78, low of 56, perfect for outdoor festivals. You may not hit these popular festivals every year, but they are worthwhile and should be on everyone's bucket list. Great family fun at affordable prices.
I will be taking a break from updating the monthly calendar to focus on my new blog
Quick.Tips
.
Visit Orlando Weekly for things to do this month
.
Recommended March Events in Orlando
Central Florida Fair
February through March.
If you've never been, you need to check out this annual festival. One of the best deals around for a full day family adventure. Order in advance and on-line for the best deals. If you just want to take in the sights and do a little people watching. Check on-line for discounted and advance purchase ticket deals. In addition to Midway rides and shows, preview the accomplishments of local residents at displays for horticulture, livestock and 4-H exhibits. More information and to purchase tickets, visit the Central Florida Fair website.
Winter Park Sidewalk Art Festival
March 20 – 22, 2020
Celebrating 60 years, the Winter Park Sidewalk Art Festival is one of the nation's oldest, largest and most prestigious outdoor art festivals. You will find the creative works of over 225 artists staged around Winter Park's picturesque Park Avenue. The annual event is expected to draw over 350,000 visitors during the three day festival. Enjoy the day on Park Avenue with its popular restaurants and relaxing wine rooms. During the festival, the Morse Museum will be offering free admission to it beautiful galleries including the Tiffany Chapel and Laurelton Hall.
Epcot International Flower & Garden Festival
Beginning March 4th and continuing through June 1, 2020. This year's Epcot International Flower & Garden Festival is in full bloom and one of the best ways to welcome the Spring season in Orlando or where ever your home base might be. The food, exhibits, presentations, gardens and high-energy concerts will bring you back for a second day. Be sure to check out the Florida Resident 4-Day Ticket specials..
Orlando Attractions in March
More Orlando Links for March: