Parks and playgrounds are great places to take the kids. They can offer everything from a place to run around for fifteen minutes while burning off a little energy to an afternoon family outing. In this list, I've focused on public parks that provide fun, safe playground equipment for kids.If you are visiting the Orlando area and looking for a break from the fast-paced, crowded theme parks, consider heading over to one of the Orlando playgrounds and public parks for a day of free fun.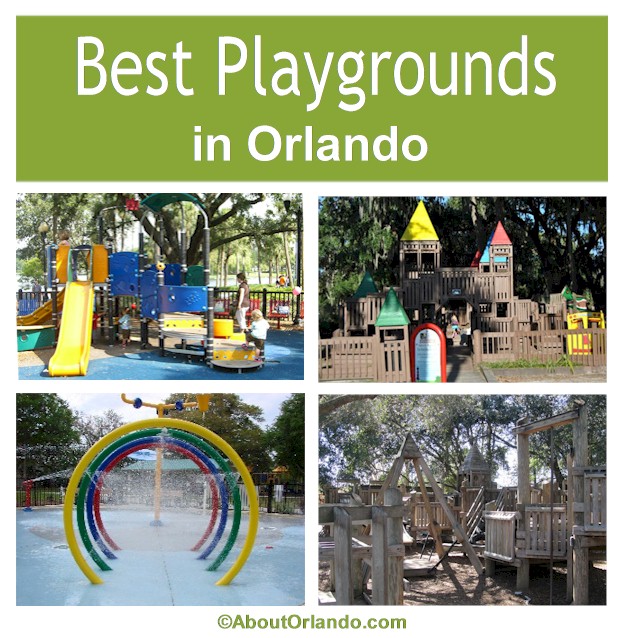 Top Orlando Playgrounds & Parks
512 East Washington Street
Orlando, FL 32801
Downtown Orlando's favorite park is beautifully landscaped and offers a wide range of activities and annual events. You'll find the playground at Lake Eola Park a great spot for kids to explore the pieces of brightly colored play equipment. The area is safely fenced and features a rubber playground surface to protect against injury.
1050 W. Morse Blvd.
Winter Park, FL 32789
Nicely shaded play area with lots of things to do. You'll find tire swings, slides and a large wooden castle structure for exploring. With so many places to run and hide, this is not a spot for parents to drop the little ones while they relax under a tree with a good book. It is easy to lose site of the kids, so you will want to make this an interactive play date. Bigger kids will enjoy the basketball courts and large open fields that are perfect for a game of baseball or tossing a Frisbee.
8249 Buenavista Woods Blvd.
Orlando, FL 32836
A city park for all ages! At this 43 acre park, you'll find an off leash dog park, pavilions to rent and a multitude of fields for soccer, volleyball, softball. Be sure to check out the nature trail – Long Horn Steakhouse Loop with over 1/2 mile of meandering paths through 10 acres. Bright and sunny where most of the shaded areas are provided by canopies. Year round kids can cool off at the awesome splash pad which is well worth the $1 admission price charged for each four-hour session.
310 S. Tremain St.
Mount Dora, FL
This Mount Dora playground with it's Wood Wonderland design features a large maze-like castle will entertain your kids for hours. A canopy of mature oaks provides an abundance of shade, making a summer day at the park much more enjoyable. Pack a lunch for a picnic along the small creek or at the shores of Lake Dora. The two pavilion can be rented out for parties.
Do you have a favorite park or playground in the Orlando area? If so, post your comments below.
Save
Save