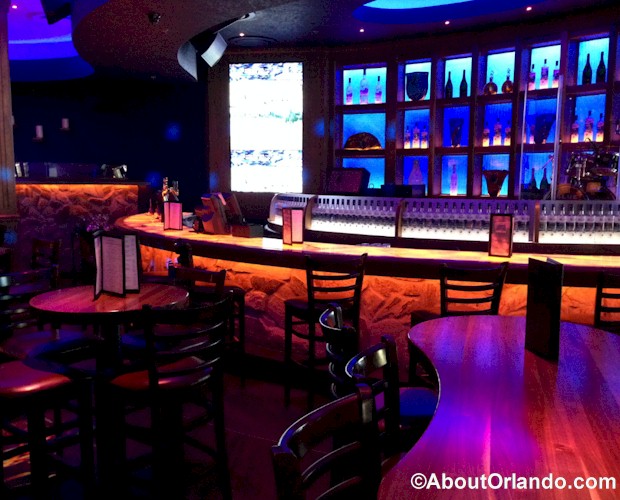 Looking for the hottest bar on International Drive? Blue Martini located at Pointe Orlando offers music, dancing, cocktails and more. This popular Orlando nightclub, originally located at the Mall of Millenia, caters to tourists as well as locals at the International Drive location. Conveniently located just a short distance from the Orange County Convention Center, Blue Martini brings live entertainment and great drink specials to the already booming nightlife at Pointe Orlando.
Places and Spaces
Indoors and outdoors with a transitioning bar in between. All cool and comfortable (yes, even the outside patio). Ceiling fans and an impressive A/C system do a great job here making sure patrons remain as cool as can be, even on warm summer days.
There are large screen, high definition TV's scattered throughout the bar – enough to satisfy sports fans, but not so many as to even consider this a sports bar.
Designed for entertaining, Blue Martini can segregate sections of the venue for private or semi-private parties – everything from an fun outing for 6 to an intimate party with 1000 of your closest friends.
Cocktails and More
Who doesn't feel even a little bit sexy holding a stemmed Martini Glass? You'll find over 40 specialty martinis and cocktails on the menu, but feel free to make requests of the knowledgeable bar staff if your favorite isn't on the list. Choose one of the classics like the traditional Cosmopolitan or be daring and go for the decadent Chocolate Martini, all of which are served in your own mini shaker to keep the contents chilled.
The signature, name-sake martini is perfect for those who enjoy a sweet drink. The 'Blue Martini' is comprised of Van Gogh Blue Vodka, Cointreau, Blue Curacao, sour mix and orange juice. Though surprisingly not served in a martini glass, this tropical drink fills an over-sized snifter and is garnished with a blue glow stick and colorful orchid.
You're not limited to ordering just martinis here. The wine list is also impressive (and very affordable during Happy Hour) and beer is offered by the bottle and on tap.
Getting Hungry?
I don't usually consider going to a bar for dinner, but Blue Martini serves a surprising selection of very tasty dishes. The satisfying Thai Chicken served over Napa Cabbage Slaw and the Beef Tenderloin with fingerling potatoes are two of the Signature Dishes that are both very impressive and beautifully presented. The Beef & Portabella flatbread at Blue is a must order item that is tasty, plentiful and perfect for sharing.
Happenings
Whether a DJ spinning top 40 mixes or a live band performing upbeat dance tunes, music is an every evening occurrence at Blue Martini. Check the online schedule for performers and start times.
An abundance of Happy Hours every day of the week make the pricey martinis a little easier to swallow. Monday through Friday you'll find discounts on all drinks and most menu items from 4 – 8 pm and on Saturday and Sunday from 3 – 8 pm. Another reason for taking advantage of the happy hour is that Wednesday through Saturday there is a $10 + cover charge. The most popular night is Wednesday when ladies receive free admission and half off drinks all night.
Throughout the year, Blue Martini hosts a bevy of holiday and special events, from the Little Black Dress Party in July to their ultra sexy themed Halloween costume party in October.
Tips
Where to Park for the Blue Martini at Pointe Orlando:
Blue Martinin Orlando is located at Pointe Orlando on International Drive. The Pointe Orlando complex offers a parking garage that can be accessed from International Drive or Pointe Plaza Avenue. There is a fee for parking in the garage. Blue Martini does not validate parking. Be aware that there is a good walk from the parking garage to the venue. Valet parking is also available in front of Capital Grill (on International Drive).
Dress Code:
As casual as most of Orlando tourist spots are, take note that Blue Martini does have a dress code. What exactly it is seems to be open for interpretation. It is best to call ahead if in doubt.
Cover Charge:
Some nights you might find a hefty cover charge to enter the Blue Martini. Again, something you wouldn't expect at most Orlando bars. If this is a concern, be sure to call before heading out. For the budget conscious, the daily happy hour deals are some of the best around.
Location
Blue Martini Orlando
Pointe Orlando
9101 International Drive, Suite 1182
Orlando Florida 32819
407-447-2583
Guests must be at least 21 years old to enter