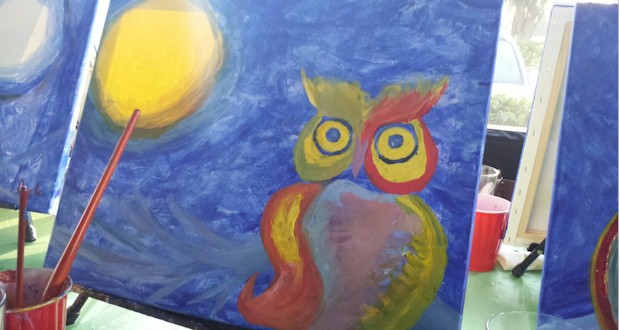 Article by: Amber Norell
No Experience Required
My boyfriend and I decided give Paint Nite a try for an evening Date Night. We selected one of the locations that was somewhat close to us – World of Beer UCF. When we arrived, we were greeted by a friendly group of artists who checked us in and escorted us to the outside patio area. Two long rows of tables topped with easels, medium-sized canvases, and painting supplies filled the area.
By the time everyone had checked in the tables were completely filled. This location seemed to bring in mostly college-aged students. The instructor gave us a rundown of what we would be painting – an night owl under a full moon. Apparently, the classes come in varying degrees of difficulty and we just so happened to be in the most difficult one. We were a little stressed at first, but the environment was extremely laid back and there was no pressure to end up with a masterpiece at the end of the night.
The space was crowded and it was super hot outside on the screened-in patio. The attentive waiters at World of Beer continuously checked up on the group to make sure they had drinks and definitely made everything much more enjoyable. The great thing about Paint Nite is that it is hosted at a variety of convenient venues across the Orlando area and each night has a different featured painting. You can call before booking a class to find out what type of venue is hosting the event – just in case you want to avoid un-airconditioned space.
Pricing and Other Information
Tickets to Paint Nite are $45 each, but discounted tickets and special deals area often offered on sites like Groupon. You can frequently find discounted coupon codes on the Paint Nite website which also bring down the price. The event lasted a few hours and it was definitely a fun and refreshing take on date night. This event was very intimate and hands-on and would be perfect for anything from a girl's night out to a first date. The Paint Nite website lists an event calendar, event gallery and other information. Upcoming events can be sorted by artist, by painting and by venu.