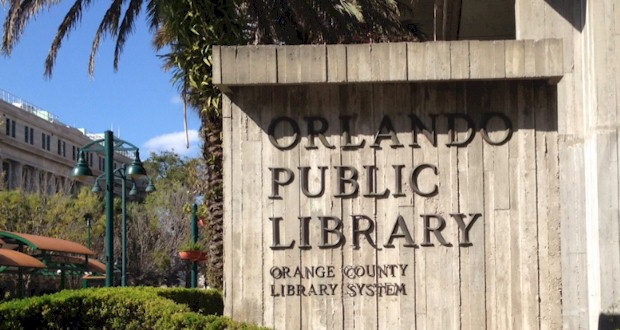 Most of us carry a library card in our wallets, but how many of us are aware of all the advantages that come with that card ownership?  Of course we can check out books, movies and even some music CD's, but when was the last time you wandered through the
Orange County Library System (OCLS) website
to preview some of the on-line offerings?
If you haven't signed up for a library card yet here are 7 reasons that you should sign up today!
Melrose Center
Opened in 2014 within the downtown library, this high-tech center provides 26,000-square-feet of dedicated space for technology, innovation and creativity. Open to library patrons, the
Melrose Center
includes a recording studio and sound booths; a film studio with a green screen; a fabrication lab with 3-D printers. As a center for learning, several large conference rooms are available along with a 12′ x 8′ Interactive Media Wall in the center's open space. Most of the areas must be reserved in advance and require an hourly charge. If you are interested in learning more about the space or reserving any of the areas, you must attend one of the hour-long orientation sessions.
e-Books
If the mood hits you in the middle of the night to start a new book, no worries. The library's website is available 24/7. With your library ID card you can go online to access free e-books that are available through programs such as Axis360, Freading or OverDrive. Easily transfer to your PC or e-book reader.
e-Magazines
The library offers a free subscription account with
Zinio
, the online newsstand. Go to the OCLS site to start the set up process for your free account. After you enter your library card number and pin, you will be directed to the Zinio site where you can set up an account for yourself. Once you have an account, you can immediately start checking out and reading magazines on your computer. Zinio has an app for Android, Blackberry Playbook, iPhone, iPod Touch, iPad, Kindle Fire, Nook HD & HD+, Mac, and PC. Once I 'checked-out' several magazines, I installed the app on my IPad. By entering my email and account number, I was able to access the magazines on my IPad that I selected on my computer. BTW, there is no limit to the number of magazines you can check out on Zinio – I now have enough reading for 3 lifetimes!
Movies, Music and More
Visit the library for a large selection of DVD movies, television series and music CD's that can be checked out. Unfortunately, you can not reserve these and need to pick them up at the library. So to get a popular, current series, you will need to have patience. Another option is to sign up for
Hoopla
. This on-line service is free for Orange County Library card holders and includes movies, music, audiobooks, ebooks, television and comics. Check these items out via your smartphone, tablet or PC.
DIY Learning
The library offers a large selection of technology classes that you can attend at all of the Orange County branches, but did you know that
through the OCLS website
, you can create a free account
Lynda.com
? This site is well know in the techie world for offering video tutorials on a variety of software and programming topics. Some of the courses are so popular that large companies have been known to use them for training purposes with their employees. This site normally charges around $20 per month for access – but is free for library card holders!
Used Books for Sale
On the third floor of the library you can find the Friends of the Library Bookstore. Staffed by volunteers, the bookstore is a great fundraiser for the library, raising over $125,000 each year to benefit the library. That's selling a lot of books at $1.00 for paperbacks and $1.50 for hardcover books! Throughout the year the library book store also holds three annual sales events to promote sales and move out the old to bring in the new. The store's inventory consists of withdrawn materials from the library along with patron donations. In addition to books, you can also find magazines, maps, records and CD's. You do not need to have a library card to purchase books. For extra savings, be sure to visit the
Spring Book Sale in May
.
Don't have time to go to the Library?
Sign up on-line and a card will be mailed to you! You can still receive many of the library services and never step foot into any one of the library's 16 branch locations. Once you receive your card, you can use the ID number to sign into the Library's website.
Not in Orange County? A library card is not required to enter any of the library branches, but is required for most services. For a fee (3 month, 6 month and annual options are available), you can still get a OCLS card and be able to access the many services offered by the library. This same fee is required for Orange County residents living in the City of Maitland and the City of Winter Park.