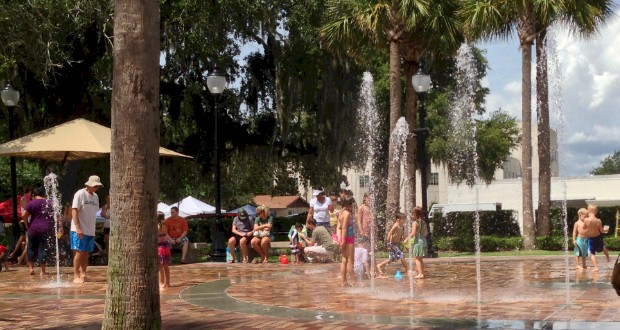 The best way to beat the summer heat with the little ones.  Splash pads are perfect for toddlers. You certainly can't beat the easy (and free or cheap) spur of the moment outing that is guaranteed to entertain.
City and County run splash pads offer a variety of ways for kids to cool off on a hot summer day. Some of the parks have a more intricate set up than others as  part of a larger park system with a pool and playground facilities. These locations are perfect for an all day outing with a picnic lunch.  Occasionally, you may come across a local splash pad that charges a buck or two, but most are free. Be sure to check the websites for directions, hours of operation, cost and restrictions. Some splash pads may be closed during cooler months or only open on the weekends.
All the Central Florida splash pads on this list are either city or county run.  In your travels through the area, you may also come across some unexpected locations for splash pads such as the Magical Water Fountain at Downtown Disney Markeplace (found near Once Upon a Toy).  So as you are out and about with the kids this summer, be sure to keep a bag with a swim suit, towel and sun screen for a quick cool off at one of the Orlando area splash pads.
More Central Florida Splash Pads
Splash Pads in Seminole County