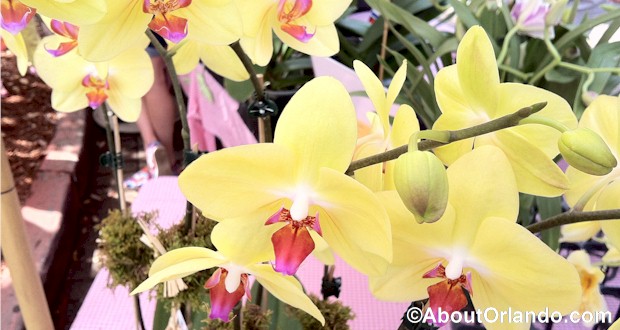 One of the best reasons for getting up and out of the house on a beautiful Saturday morning! Located at the historic old train depot on the corner of W. New England Avenue and S. New York Avenue, the
Winter Park Farmers Market
is open from 7am till 1pm every Saturday – though most vendors tend to stay a little for shoppers that linger.
The breakfast and lunch choices are well worth trying out. The pre-prepared and made-to-order options are a little more upscale than you might expect from a Farmers Market – but exactly what you would expect from Winter Park; fresh crepes, pastries, quiche – many direct from area restaurants. Gotta try the crepes – sweet or savory. My favorite is the turkey and Swiss cheese topped with the sweet Dijon mustard.
Venture indoors for a little air conditioning and some more delicious delicacies; cupcakes, fresh bread, homemade jellies and jams. A popular station selling cut to order Imported cheeses is a Saturday morning staple. Ask for a sample before you buy.
As the local go-to spot for fresh produce, the great selection will whet your appetite for some healthy eating. Though there have been complaints that the produce is not as locally sourced as some would like, its is still fresh and good nonetheless.
An interesting array of food items can be found at the market: Locally produced
Winter Park Honey
claims relief from allergies. An Indian River citrus seller makes random announcements claiming to have the sweetest orange juice available while handing out samples. Try and resist the kettle corn that is served up fresh by workers in jeans, plaid shirts and straw hats.
A large portion of the market is dedicated to plants; flowering annuals to ornamental shrubs that will bring color to your home and garden. This is one of the best places to find seasonal plants such as poinsettias, Easter lilies and Christmas cactus. The closer you get to the 1:00pm closing time, the better the deals are. If you are considering stocking up on some items for your yard, it is best to have someone else with you that can stand with the purchases while you get the car. There is some space on S. New York Ave. that is designated as a loading zone area for plants. Also available for the home you'll find several tables of beautiful, blooming orchids at very reasonable prices.
Relatively small in size, the market is more compact than other area markets and tends to feel a little overcrowded at times. Though it is this layout, that also makes the market very photogenic. Characters (both shoppers and vendors) are as colorful as the fresh produce. Even if you aren't interested in buying any of the typical market wares, this is one of the best locations to grab a cup of coffee and do a little people watching. Find a shady bench, sit back and take it all in – you'll spy everyone from tattooed Rollins art majors to dress-to-impress seniors. As the day wears on, the human scenery changes – early risers, anxious to get a jump on the day to those who don't like to take their Saturdays too seriously.
Parking isn't as bad as you might expect, it just takes a little patience. Shoppers continuously come and go and spaces are always opening up in public lots and on the street. Just drive carefully, especially if you are driving North on S. New York from Fairbanks. The intersection at W. Lyman is a bit confusing with the angled roads and train tracks.
More to Know:
Within the same building (entrance is on W. New England Ave.) is the Winter Park Historical Museum. Take a break from the heat and stop into the museum which is open on Saturday from 9:00am until 1:00pm. Admission is free and exhibits put a historical focus on some of Winter Park's traditions and events.
The Winter Park Farmers Market is closed the during the Annual Winter Park Art Festival which is held in March.