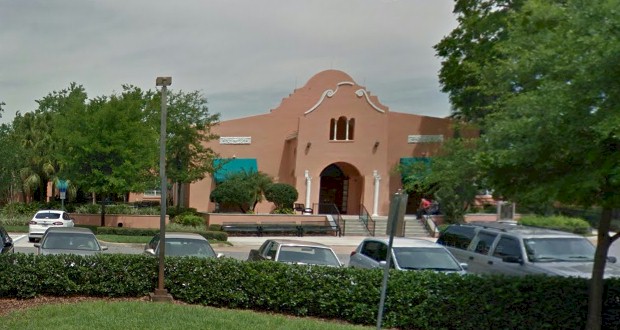 Marks Street Senior Recreation Complex
at 99 East Marks Street, Orlando, is a designated Senior's Activity Center that has operated as such for decades. Converted from a public school, it provides the rooms and facilities to meet the mixed use requirements of the facility. A fitness center, with state of the art equipment, exercise rooms, a kitchen, a computer classroom, a billiards hall, a ballroom, and many classrooms permit a large number of activities to function simultaneously throughout the day all week long.
Get Fit:
At the center, there is always lots of printed information available regarding the multitude of events available. The exercise classes taught by Waleska are very popular evident by the large class size. She is a great teacher and support to the participants with a full range of activities for all levels. For those who want a little more cardio in their workout, be sure to check out the Friday and Saturday Step Class or the Tuesday, Thursday Spin class, The majority of classes are free and there is a $10 annual charge for the fitness center.
Continuing Education:
The
Seniors Now
Computer Learning Center provides opportunities to learn computers, to refresh their skills or teach other seniors computer techniques and programs.
Like to Dance?
Visit the Marks Street Senior Center on Tuesday evenings for Ballroom dancing with a live orchestra band. Wednesday and Friday evenings also feature a live band and you'll find themed dance nights on select Saturday evenings. If you are just starting out, be sure to check out the Ballroom dance lessons starting at 10:30 am on Friday mornings. All dances and dance classes do have a nominal fee.
Did You Know?
The beautiful facility was built in 1925 utilizes the Spanish Revival architecture that was popular in Florida during that time. Orlando Architect,
Howard M. Reynolds
created many beautiful buildings, many of which have been designated as Orlando's Historic Landmarks. Other Orlando area schools designed by Reynolds include what is now the Marks Street Senior Recreation Complex, Cherokee School, Jones High School, Grand Avenue Elementary, Winter Park Ninth Grade Center and Princeton Elementary.
Getting There:
The
SunRail
is a handy commute down to the bus station/train stop downtown Orlando. There is the free loop bus from the
Lynx
Central Station to Magnolia and Marks Streets. Contact
SunRail
at 855-724-5411 or
Lynx
at 407-841-5969, tdd 407-423-0787.
Hours of Operation:
Monday through Saturday there are scheduled programs. There are no programs on Sunday, though the fitness room and billiards room are open during the center operation hours, Monday – Saturday 8am – 8pm and Sunday 1pm – 6pm. Call for programs, fees and hours at 407-254-1066 or online at
http://ww,orangecountyfl.net
.