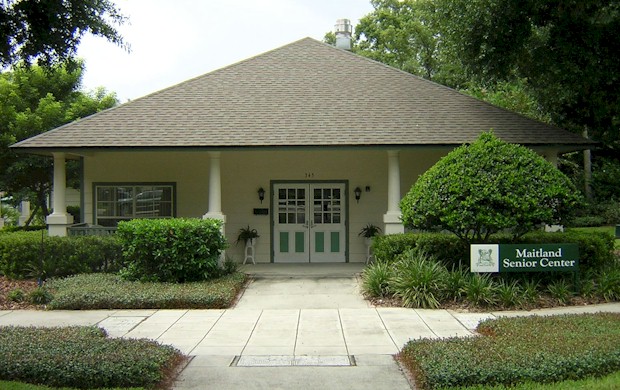 Maitland Senior Center
is located at 345 S. Maitland Ave., Maitland.
It is a Senior Center in the heart of Maitland, circled by the Maitland Public Library, Art & History Museums and a quiet park for strolling or relaxing. It is a designated Senior Center with rooms for classes, a kitchen for any meals and a large fellowship hall for large class activities or social activities. There is a computer room with enough computers to serve a number of participants in a class or individual use. Check with the center director for assistance.
The Maitland Senior Center has a pretty active following in many groups. Many have been meeting for a number of years. The Tuesday AM "Current Events" conversation and the Thursday AM "Writer's Critique" group have been meeting for a decade or more.
Social Connections:
In addition to the Current Events and Writer's Critique groups, the center also has some more laid-back offerings such as Knit & Crochet, Chess, Bridge (lessons also), and Mahjong (lessons also).
Health and Well Being:
Four days a week you'll find the well-attended morning Yoga class. A little easier is the chair yoga, offered on Thursdays. Line Dancing and Tia Chi are other morning activities that are sure to get you up and moving.
Continuing Education:
A wide range of classes can be found at the Maitland Senior Center: I Phone / I Pad, Men's Cooking Class and an Art Class. For the musically inclined both a Beginner and Intermediate Recorder Class are available back-to-back on Friday mornings. Very popular at the center are classes for the languages of French, Italian and Spanish. It is best to call ahead and check on the availability of the classes.
Added Bonus:
Friday Flicks. Every Friday at 1:00 pm the center will show a different (and fairly current) movie. Sign up in advance at the office to reserve your seat.
Getting There:
The Maitland Senior Center is located off of 17-92 in between the I-4 Exits of Lee Road and Maitland Blvd. There is plenty of parking available at the center..
Hours of Operation:
Open Monday through Friday from 9 am until 4 pm. The center is closed on the weekends and major holidays.
Call 407-539-6251 or visit
http://www.itsmymaitland.com
for further details of programs offered and any charges.