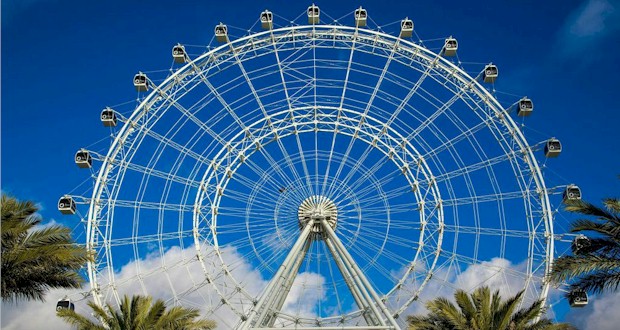 A new view of the City Beautiful!
The Orlando Eye, the focal point of the I-Drive 360 entertainment and dining complex, provides guests with a new way to experience breathtaking views of Central Florida.
On a clear day, visibility includes all nearby theme parks and attractions, downtown Orlando and even the Kennedy Space Center on Florida's east coast.
Unlike many other Orlando attractions and thrill rides, this 400' observation wheel is designed to provide a serene experience as you journey above the picturesque landscape.  Sunny days, and evening sunsets, provide the optimal viewing experience.
This massive structure, which can be seen for miles, is located between Sand Lake Road and the Orange County Convention Center.  As an I-Drive icon, the Orlando Eye joins the unique, photo-worthy structures of Wonderworks and Ripley's Believe it or Not.
What to Expect:
You'll find free parking for I-Drive 360 in the parking garage located at I-Drive 360.
There are 30 capsules on the Orlando Eye, with each capsule accommodating up to 15 guests.
With floor to ceiling glass panels on all four sides, guests have a 360° view of Central Florida from all capsules on the observation wheel.
The floor of the capsules remains level at all times, allowing guests to walk around for optimal viewing.
The capsules are air-conditioned with bench seating.
To enhance the experience, lighting and audio effects, along with interactive tablets, provide information on the views of Central Florida.
Once you board the Orlando Eye, the entire flight experience takes 20-minutes.
The attraction is open from 10 am until 10 pm Monday through Friday and 10 am until midnight on Saturday and Sunday.
Interesting Facts:
The Orlando Eye (400′) is similar in size and design as the London Eye (443′.)
The Orlando Eye is the tallest observation wheel on the East Coast of the United States.
Each of the 30 glass capsules weigh approximately 6,600 pounds. The capsules are attached to the wheel by a shaft and hangar that is connected to the top of the capsule. This system keeps the floor of the capsule level.
The glass covering the capsules was crafted in Turkey and consists of 10 panes of glass weighing almost 1,300 pounds.  The capsules were assembled in Hungary. The completed capsules made their transatlantic journey to the United States from Northern Germany.
More to Note:
Service animals are allowed to accompany guests on the ride.
Wheelchairs are allowed, though there are certain size limitations.
There are no age or height restrictions for children.
The Orlando Eye Ticket Prices:
For the best deals, purchase combination tickets for all three Merlin Entertainments attractions at I-Drive 360: The Orlando Eye, Madame Tussauds and SEA LIFE Aquarium. Order your tickets on-line for additional savings. Please note: Dates, times and prices are subject to change without notice, so be sure to check the web site or call to confirm information.
The Orlando Eye
8401 International Drive Suite 100
Orlando, FL 32819
Phone: 866-228-6438