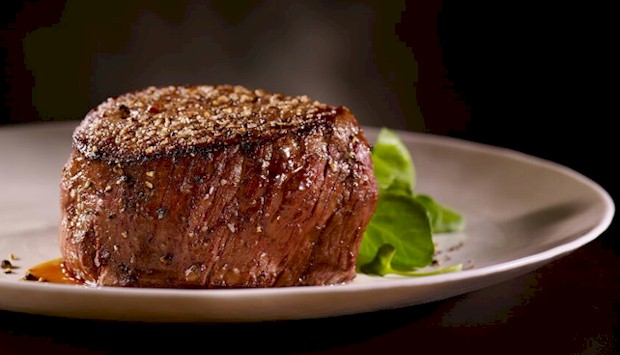 Photo © Del Frisco's Double Eagle Steak House – 8oz Filet Mignon
ABOUT THE MAGICAL DINING MONTH:
September offers a month of magic in Orlando! Tourist season is slowing down giving Orlando area restaurants the opportunity to once again WOW us with great dining deals! During Orlando's Magical Dining Month, begins August 23th and continues for over 5 full weeks until September 30, 2019, diners can enjoy a three course dinner for only $35. Each participating restaurant will offer a prix fixe menu with selections for appetizer, entrée and dessert.
Not just for Florida residents and no coupons needed!
This is your chance to try out some new restaurants or visit your tried-and-true favorites for the full treatment – all at a discounted price. There are over 120 restaurants participating in the 2019 event.  So many new Orlando area restaurants has made this the largest list ever! So how does it work? Peruse the list of restaurants to find the ones that interest you. Click on the link and you'll see the prix fixe menu that is being offered.
Restaurants are listed by area; Convention area, Disney/Lake Buena Vista, Downtown, Restaurant Row (Sand Lake Road), Universal/CityWalk, Winter Park and North, Surrounding Areas.
Each year the program supports local, Orlando not-for-profit organizations.
September Magical Dining Tips:
Some of the more popular restaurants will book up early for Friday and Saturday evenings, so plan in advance and make reservations right away.
Not all restaurants will automatically hand you the prix fixe menu, so be sure to ask about it
.
If you have other discounts or coupons for the restaurant, be sure to call ahead to see if they will be honored with the Magical Dining menu.
Sometimes restaurants may offer a featured wine at $35 a bottle.  Others may allow you to bring your own wine – call ahead to see what the corkage fee is.
This is the restaurant's opportunity to show the customer just how fantastic the dining experience can be – therefore it is to their detriment if they serve smaller portions or specialty items that are not usually on the menu. For this reason, I always ask the server about the prix fixe menu – how it compares to the restaurant's regular menu and what have been the most popular selections from others.
Best Choices for Magical Dining:
Fogo de Chao and Texas de Brazil are both on the list this year. These Brazilian Steakhouse do not offer a standard menu – it is usually a flat rate of $46.50 – $49.95 for the full dinner, therefore if you request the Magical Dining price, you will save more than $13.50 per meal and receive a dessert! Confirm this when you call to make your reservation.  Also, some prime cuts of beef may not be included in Magical Dining.
All of Orlando's top Steakhouses are included on the list: Capital Grille, Fleming's, Morton's, Ruth's Chris, Spencer's and the beautiful Del Frisco's Double Eagle Steak House on International Drive.  If your selection can only be one, choose carefully, check entree cost on the restaurant's menu to see where the best savings can be had.
Some of the restaurants do not include prices on the website menu. Others that have more seasonal selections do not list a menu on-line.
PAST EXPERIENCES:
Each year I indulge and visit at least four of the restaurants participating in Orlando's Magical Dining Month: Two favorites and two new restaurants. For me this is a good opportunity to try something different than what I might normally select from the menu. There is usually so much food, it is doubtful that I will go away hungry.
My go-to favorite restaurants are Del Frisco's Double Eagle Steakhouse, The Capital Grille, Vines Grille & Wine Bar and The Boheme.   What are your favorites? Post your comments below.