Indulge your oolong impulses at one of these Orlando area tea rooms.  Enjoy a cup of tea at proper afternoon High Tea done Disney style, or at a local cafe specializing in vegan fare. When I started this list of Tea Houses and Tea Rooms, I had no idea that the selection would be so diverse. If you are like me and tea is your drink of choice, then this is a great list of restaurants and cafes where you can find everything from a  pick-me-up caffeinated iced blend to a pot of soothing decaffeinate tea.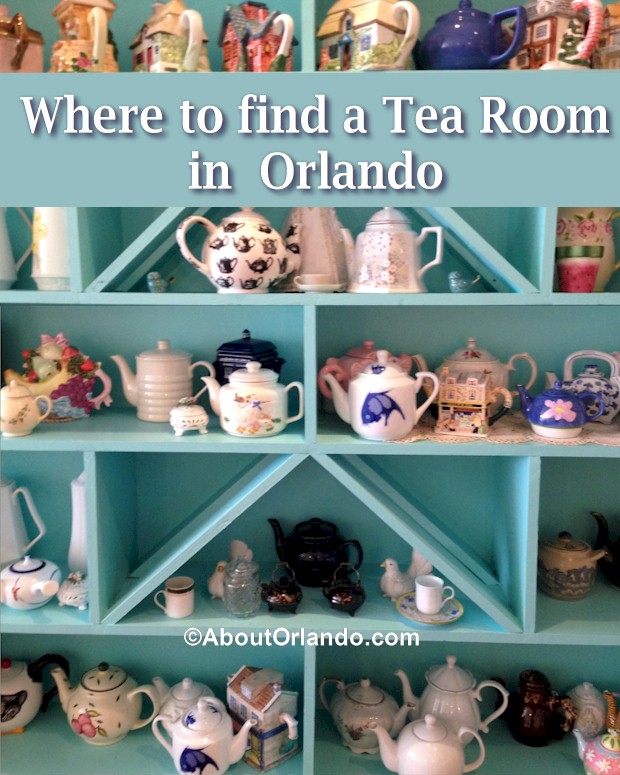 Top Tea Rooms and Tea Houses in Orlando
618 N. Thornton Ave.
Orlando FL 32803
407-362-1864
This vegan restaurant offers a great selection of organic teas to go along with some wonderful locally sourced and organic menu items. If that's not your cup of tea… you'll also find Fair Trade Organic coffee, organic beer from Orlando brewing and even a nice selection of wines.
1600 Edgewater Drive,
Orlando, FL
407-999-5255
On view as soon as you enter Infusion is the expansive selection of loose tea which includes 75 varieties ranging from the classic English Breakfast to the more esoteric Gyokuru. If you are overwhelmed by the selection, the knowledgeable staff can help you with your choice. This tea house offers the best of both worlds, a full restaurant which does a great lunch-time business to a relaxing spot to stop in for a traditional Afternoon Tea complete with a 3-tier tray of pastries, scones and fresh baked cookies, breads and tea sandwiches.
1954 W State Rd 426 #1106
Oviedo, Florida
407-542-7856
A great way to spend a few hours visiting with friends while enjoying afternoon tea in a bright and cheery tea room. The four course lunch includes small portions of fruit, soup, and a plate of petite tea sandwiches and quiches. Lunch is finished with two of the mini daily desserts. The unique pieces of china and charming teapots add to the ambiance of the shop which also sells fresh baked goods. The tea room is available for private parties.
3801 W. Lake Mary Blvd. Suite 171
Lake Mary, FL 32746
407-496-9008
This quaint Lake Mary Tea Room offers afternoon tea with an authentic British flair. In addition to High Tea served Tuesday through Saturday, the restaurant is also open for breakfast and lunch. The intimate and relaxed setting is perfect for special occasions including birthday parties, showers and networking events. The refined menu choices are typical of what you would expect in a British Tea Room.
67 North Bumby Avenue
Orlando FL 32803
407-894-0865
Flavorful teas include a nice selection of Green favorites, Rooibos and Herbal. Pom Pom's is a great place to socialize and relax. For dining choices, the menu includes salads, sandwiches and breakfast. Many of the entrees have an Eastern influence, giving the dishes a little extra spice and flavor. Looking for some late night dining? Pom Pom's is open from 11 am on Friday morning until 6 pm Sunday evening. On the weekends, savor the creative breakfast options beginning at 11 pm until noon on Saturday and 4 pm on Sunday.
Disney's Grand Floridian Resort & Spa
4401 Floridian Way
Orlando, FL 32830
407-939-3463
In the grand Disney style that you would expect, afternoon tea, served from 2 – 5 pm in the Garden View Room is a delightful, elegant indulgence. For a special treat with your granddaughter or an as an addition to your vacation itinerary, afternoon tea at the Garden View Tea Room is sure to create some delightful memories. The beautifully appointed room overlooks the resort's garden and is available for special events.
Do you have a Tea Room nearby that you would like to recommend? If so, post your comments below.