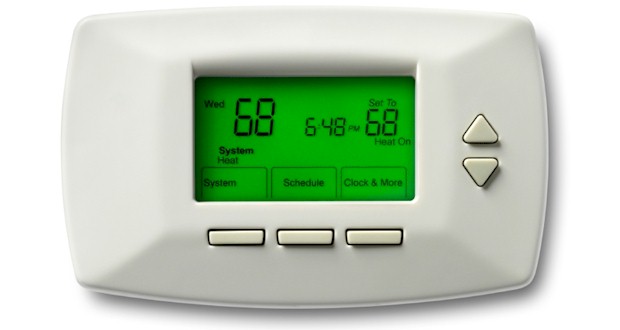 Are your utility bills a little higher than you would like? Perhaps you are looking for a few ways to be a little more energy conscious?  If
Orlando Utilities Commission
(OUC) is your provider, you should schedule an
in-home energy audit
to find out what you can do to make your household more energy efficient.
After watching my utility bill increase month after month due to a typical long, hot Orlando summer, I decided to utilize the free energy audit provided by OUC. Just one phone call to schedule an appointment – easy enough.  Even though it was three weeks out, I felt good about taking this first step towards doing my part to saving the planet.
On my scheduled date, a very nice OUC conservation adviser named Shawn arrived promptly at 2:00pm, right at the beginning of the three hour range that I was initially quoted.   He started by reviewing the exterior of my home, checking the outside lights, fans, pool pump, sprinkler system and AC units. The next step was to gather information about my household: How many people lived here, square footage of my home, year built along with any improvements that I might have added to the home. Just a couple of easy questions that were entered onto a form to help with the evaluation. The few things that I was unsure of, including my air conditioning tonnage and type of attic insulation he was able to check for himself.
During our conversation, I brought up my concerns regarding the the somewhat shocking
Home Energy Reports
that OUC had been sending me recently – via snail mail and email.  I've always considered myself somewhat green – I grow herbs, recycle, up-cycle and turn off lights.  So when the monthly neighbor comparison report came in listing me at #85 out of 100 with 1 being the most efficient I felt rather sad.  Was I  destroying the environment for future generations, was my home being branded with a scarlet E for Excessive?
Shawn politely explained to me that these neighbor comparisons are meant to be just a guideline, not a personal scolding and that my score was not publicly posted at the town hall for all to see.   All homes (regardless of size) in a 2 mile radius of mine are used to calculate the report – this includes vacant homes, condos, apartments and those households that keep their AC set to sweltering 78 degrees in the summer months. Yes, I know the U.S. Government recommends that thermostat setting for summer months, but they don't live in Orlando.
The auditor did a quick review on the inside of my home. When checking my AC filters, he showed me how to properly change them, giving advice on what type to use and how often they should be replaced.  Shawn then took my data back to his energy efficient, hybrid car that must have been equipped with a solar powered computer and printer.  Ten minutes later he emerged with a four page report loaded with figures and charts, comments and suggestions.  Overall it seems that for my size of home I'm actually doing a pretty good job – efficiency wise.
A few items that were noted in the report:
I could save around $30 per month during the winter months by running my pool filter 5 hours a day instead of 10.
Dusk sensors installed on my exterior lights would be a good energy saving option.
AC filters need to be changed every 4 to 6 weeks during peak times when the air is running daily. They can last around 6 to 10 weeks during cooler months.
Fans are great for making you feel cooler, but if you aren't in the room, they don't need to be on.
Read more about OUC's in-home energy audit.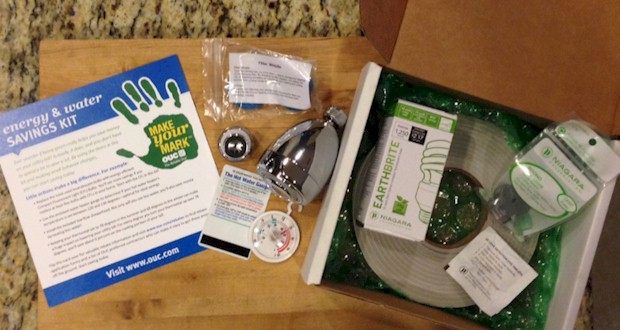 Free Energy & Water Savings Kit

:
An added bonus to having OUC do a home energy audit is that they will leave you a little gift box to help make your life a little greener. Included in the box they left me:
Water Efficient Shower Head
Faucet Aerators
Hot Water Gauge
Weatherstripping
Refrigerator Thermometer
Air Filter Whistle
Toilet Leak Detector Dye Tablets
Compact Fluorescent Light (CFL) Bulb
If you are new to the Orlando area or OUC, a few things to remember when comparing your bill to other areas: Orlando Utilities Commission includes water and sewer, electric, garbage and city taxes all on one bill.If you don't have the time for a scheduled appointment, take the
OUC's Online Home Energy Audit
.