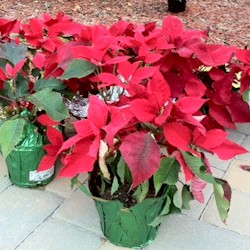 The holidays are over and it is time to clean up the symbols of the season. All that glitters and sparkles, family heirlooms, yards of decorative plastic greenery are carefully stored away until next year. The multitude of poinsettias that added color, both inside and out, are herded up into a large black garbage bag …. or not!Think again before just tossing out these hardy little bushes. The Central Florida area is one of the best places in the country to keep this low maintenance plant alive and thriving. After a few months, the colorful leaf-like bracts will begin to fade out, leaving a beautiful, full, green bushy plant with just hints of its holiday red.
Left to their own devices, the poinsettia will again produce flowers and colorful leaves near the end of December. As the poinsettia is a "short-day plant," the change will occur about 10 weeks after the amount of daylight shortens to 12 hours or less..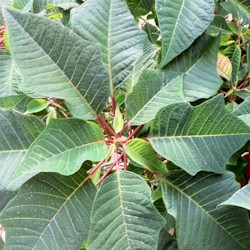 Since the stems are a little on the delicate side, I would suggest planting them in a large pot or in an area against a fence – any place where the kids and dog won't be tempted to run through them.Last year, I left my poinsettias in the large decorative pots by my front door – right where I had them over the holidays. They looked so nice, that I hated to just toss them – besides, I had nothing else to fill the pots with.
The bracts remained a vibrant red through Valentine's Day, then slowly transformed into a vivid emerald green, beautifully shaped bush that graced the front porch throughout the hot summer months when most other plants would have withered from the heat. That first year I neither trimmed nor fertilized them, but they thrived (I suspect there was enough "left-over" fertilizer in the potting soil from when I purchased the small plants).
How to care for a Poinsettia:
They don't like a temperature below 45 but can tolerate a very light frost.
The preferred temperatures are around 60 at night.
Plant them in a sunny spot.
Water regularly, trim and fertilize in the early spring after the blooms fade.
If kept in a planter, be sure it drains well. Poinsettias don't like soggy soil.
To ensure colorful blooms for December, keep the plant in complete darkness from 5 p.m. till 8 a.m. from Early October through November.
A healthy Poinsettia plant can reach heights of 10′.