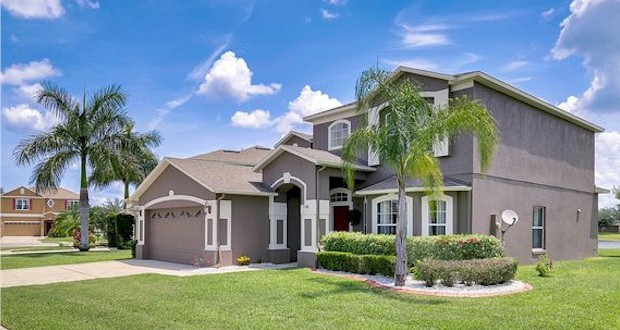 Extended families traveling together for vacation created the need for the Vacation home and an abundance of inexpensive land in Osceola, Polk and Lake Counties afforded the Real Estate investment opportunity of Vacation Homes as a business in the Orlando area. These large, relatively low cost homes attract investors from all over the world who want to own Florida Real Estate in this hot vacation market.
Unlike a Time Share property, where the individual owns just a portion of a unit within a highly controlled situation, a vacation home owner, has the option of running the home in any way that they choose.
Since it is your home, you may also vacation in the home as often and for as long as you want. The options for managing a vacation home are endless. After purchasing the home, some investors will turn the entire property over to a management/rental company that will handle every aspect of the property. Other owners may choose to provide their own renters, thus requiring only management services. Management companies can have as few as 5 homes, to as many as 500.
What to look for when purchasing a vacation home:
Make sure that the home is within 10 minutes to the attractions, the closer the better.
Be sure that it is in a county and community that allows short-term rentals.
A screened and heated swimming pool is a necessity for vacationers.
Look for a home that will be easy to maintain.  Selecting tiled floors over carpet will help with future maintenance of the home.
A pool spa or jetted bath tub is a desirable feature.
The more privacy the yard provides, the better. Water views and conservation areas are always plus.
A two story is nice, but it may limit some renters who are elderly or disabled.
Property management companies come in two types; those that just manage the property and those that will manage and rent the property.
Management Services generally include the following:
Phone service is available to renters 24/7 for any problems that may arise with the home.
General inspection of the property.
Hiring individuals to do repair and/or maintenance when needed.
Property key disbursement and retrieval.
Rental Services generally include the following:
Advertising for and finding renters for the property.
Handling rental payments.
Before you can turn your Vacation Home into a business, certain state and county applications are required. Generally a local checking account will need to be established for rent deposits. To simplify the bookkeeping process, most monthly expenses can be automatically deducted directly from the checking account.
Required by the State or County:
Sales and use tax number required – application fee
County Sales Tax number – application fee
Occupational License – annual fee
Hotel License – annual fee
All foreign investors require a TIN number and they must produce annual accounts to the IRS.
Monthly expenses:
Property maintenance company
Community Home Owner's Association
Pool maintenance
Lawn care
Pest control
Electric
Water utilities and trash pickup
Cable
Additional costs:
Property taxes
Insurance
Cleaning fees (at the end of a rental period)