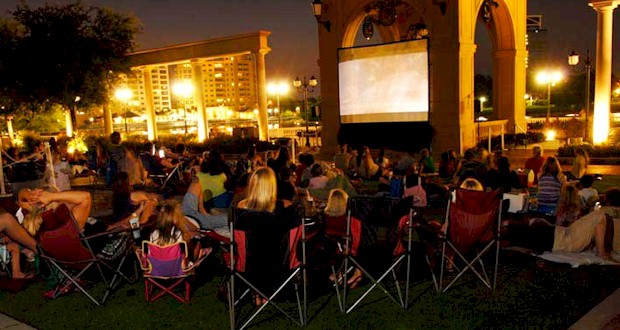 Free Outdoor Movies in Orlando:
A popular trend for family entertainment is watch a movie under the stars. Due to our warm year round temperatures, here in Central Florida, you'll be able to find an outdoor movies every month of the year.
Popcorn Flicks in the Park
One of the more popular outdoor movie events for kids and adults in Central Florida. Sponsored by the Enzian, movies are usually presented on the second
Thursday
of the month. You'll find an eclectic mix of classic movies at this location – everything from classic black & white films to movies with holiday themes.
Central Park in Downtown
Winter Park
Wednesday Night Pitcher Show 
Held on the front lawn at the Enzian Theater. Drinks and food are available before and during the shows that are shown on select Wednesday evenings beginning at 8 pm. Come early for movie trivia and Jell-o shots – this outdoor movie is not recommended for children.  It is also doubtful that they will allow coolers with food and drinks.
Enzian in Maitland
Food Truck Friday & Movie in the Park
On the third Friday of the month you'll find food trucks for dining and a free movie in the park on the outdoor screen. Hosted by the City of Ocoee, the event begins at 6 pm.
Bill Breeze Park in Ocoee
Cranes Roost Sunset Cinema
Watch a family-friendly movie on the second Saturday of the month. Come early and take a nice walk around the lake at Uptown Altamonte before the movie starts. In addition to the many restaurants located nearby, there will also be food and beverages available for purchase at the event.
Uptown Altamonte in Altamonte Springs
Each month Leu Gardens presents an outdoor Date Night Movie on the first Friday of the month. Admission is $6 for adults and $3 for children (K – 12th grade). A dinner picnic basket and alcoholic beverages are allowed.