Event dates, prices, and activities listed are subject to change without notice.
Check the web site or call to confirm information.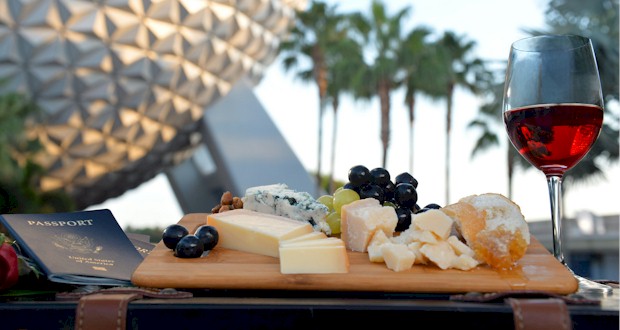 © WDW
Celebrate October in Orlando
Fall is officially here and we are getting just the slightest hint that cooler weather may be on the way. This month in Orlando, you'll find a large number or outdoor events and festivals along with lots of Halloween activities for kids, families and adults. October has always been a month filled with events from Halloween at the theme parks to an exciting season of new shows and plays.
Recommended October Events in Orlando
Epcot International Food and Wine Festival
Bigger and better each year. In 2019, celebrate the 24th Epcot International Food & Wine Festival. Check the menu before you go! The marketplace menus for the festival are now available on-line for the 2019 Epcot International Food & Wine Festival. Find out what to expect this year from WDW. There are lots of new taste treats to experience as well as some of the all time favorites such as the weekly Party for the Senses. If you are able, schedule a mid-week day out at Epcot to avoid the weekend crowds.
Halloween
This month is loaded with a variety of ways to celebrate Halloween. We've got the frightful Halloween Horror Nights which is considered one of the biggest Halloween events in the country and Mickeys Not-So-Scary Halloween Party with a lot more fun than fright at the Magic Kingdom. If you're not into the theme park events (or don't feel like shelling out an arm and a leg) there are still plenty of free and inexpensive ways to have fun. So check out the listing of Halloween Events in Orlando for 2019 then get started on your creative contest-winning costume.
Orlando Attractions in October
Epcot International Food & Wine Festival – Through November 23, 2019. Be sure to visit this year's annual event featuring culinary stars from across the country. Eat to the Beat nightly concerts performed at 5:30, 6:45 and 8:00 pm. Admission Charge.
Mickey's Not-So-Scary Halloween Party – A seasonal favorite for kids of all ages begins August 16, 2019 and runs for over 2 months for select "spook-tacular" nights until November 1, 2019.
Brick or Treat – A fun Halloween event at LegoLand on select weekend nights in October.
SeaWorld's Halloween Spooktacular each Saturday and Sunday beginning September 21 through October 27, 2019, enjoy Halloween family fun that is included in the park's admission.
Halloween Horror Nights 29 – September 6 through November 2, 2019 experience the country's premier Halloween event. Check out the online site for discounted passes and single admission tickets for this annual scare fest.
Craft Beef Festival – SeaWorld Orlando for four weekends beginning September 7, 2019 and continues until the 29th with over 100 craft beers from across the state of Florida.