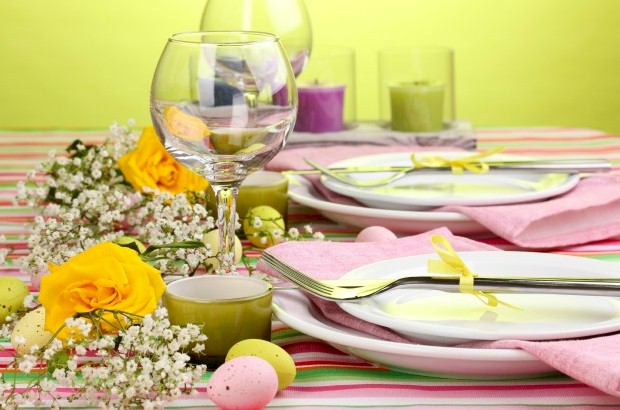 Easter Sunday is April 1, 2018 this year
. The following is a list of restaurants serving Easter brunch in Orlando this year. Many will also be offering special lunch and dinner options on Easter. It is always a good idea to call ahead to confirm times, verify prices and to make a reservation in advance. If you are considering dining at a resort hotel, be sure to ask if there will be any additional charges for parking.
Please note that the prices on this list do not include taxes and gratuity.Visiting Orlando over the Easter holiday? Be sure to check the many restaurants listed below that are located on I-Drive and those near the attractions. Almost all Orlando area restaurants will be open during their regular dining hours on Easter Sunday, but it is best to call and confirm. Not all will be providing a special Easter menu.
More: Orlando Easter Weekend Activities
Restaurants serving Easter Brunch, Lunch or Dinner
The Boheme, 407-581-4700
325 South Orange Avenue, Downtown Orlando
From 10 am until 3 pm enjoy a Grand Easter Brunch in the Johanna Strauss Ballroom. Three course prix fixe menu including champagne and mimosa, Easter Lunch will be served in The Boheme Restaurant from 11am – 1 pm.
Capital Grille, 407- 370-4392
The International Drive location will be featuring classic special brunch dishes designed for Easter.
Season's 52, all locations
From 10 am until 1 pm, Season's 52 will be featuring a special Easter Brunch menu featuring pasture-raised egg entrées, endless brunch cocktails perfect for spring, and even an orange marmalade parfait mini starter.
Columbia Restaurant, 407-566-1505
649 Front Street
Regular dinner menu will be available along with some Easter features like Baked Virginia Ham and Roast Leg of Lamb.
Hemisphere Steak & Seafood Restaurant, 407-825-1315
Hyatt Regency Orlando International Airport offering five stations for your Easter feast with traditional favorites and a decadent desserts from 10 am until 2 pm. Cost is $39.95 per person. Be sure to ask about Complimentary 2 hour Valet Parking. (not yet confirmed for 2018)
Morton's The Steakhouse, 407-248-3485
7600 Dr. Phillips Blvd., Orlando
Family celebration includes a steak & lobster special. Restaurant is open from 3 pm until 9 pm on Easter Sunday. (not yet confirmed for 2018)
Ocean Prime, 407-781-4880
7339 West Sand Lake Road, Orlando
Open all day on Easter Sunday for Burnch or Dinner.
The Tap Room, 407-650-0100
549 West Par Street, Orlando
A Grand Easter Brunch Buffett will be served from 10 am until 2 pm. Cost is $47.95 for adults and $14.95 for children under 10. Children under 2 are free.
International Drive Restaurants for Easter Dining
Rosen Centre Hotel, 407-996-2385
9840 International Drive, Orlando
Spring Brunch will be featured for Easter Sunday from 11 am until 5 pm. Enjoy holiday favorites including fresh seafood, decadent desserts and complimentary champagne. Cost is $47.95 adults, $17.95 children 4-12.
Rosen Plaza, 407-996-0256
9700 International Drive, Orlando
Brunch served from 11 am until 3 pm will feature more than 30 delicious dishes. Cost of $46.95 for adult and $18.95 for children ages 4 – 10. Check online for discount coupons.
Rosen Shingle Creek, 866-996-6338
9939 Universal Blvd., Orlando
Dine at Cafe Osceola for a delectable Easter Brunch from 10 am until 7 pm. Florida residents save 25% off the cost of $68.95 for adults.
Attraction area Restaurants, Disney and Universal
Omni Orlando Resort at ChampionsGate, 407-238-6564
1500 Masters Blvd, ChampionsGate
An Easter Buffet at Trevi's will feature a carving station, salad garden, chilled seafood, chef specialties, breakfast classics and much more. The buffet is available from Noon-7 pm for $59.95 per adult and $29.95 per child, ages 4-12. (not yet confirmed for 2018)
Ritz-Carlton Grande Lakes
4012 Central Florida Parkway, Orlando
Norman's, 407-393-4333: A la carte menu
Highball & Harvest 407-393-4648: Easter brunch.
Primo, 407-393-4619: A la carte menu.
Citron, 407-393-4619A fantastic buffet featuring leg of lamb with complimentary champagne and wine bar. Treats for the kids and a visit from the Easter Bunny.
Emeril's, 407-224-2424
CityWalk, 6000 Universal Blvd., Orlando
Special Brunch menu in addition to the regular lunch menu. (not confirmed for 2018)
Royal Pacific Resort
Universal Orlando Resort, 6300 Hollywood Way. A special brunch menu will be available in addition to the regular menu. (not confirmed for 2018)
Emeril's Tchoup Chop, 407-503-3340
Featuring an la carte special menu for Easter. Regular menu also available.
Islands Dining Room, 407-503-3463
Brunch from 10 am until 2 pm includes a visit from the Easter Bunny. Lots of activities for the kids.
Rock Hotel
Universal Orlando, 5800 Universal Blvd. (not confirmed for 2018)
The Kitchen, 407-503-3463
Easter Brunch celebration for the entire family.
The Palm, 407-503-7256
Easter dinner will be served from 5 pm until 9 pm.
Loews Portofino Bay Hotel
Universal Orlando, 5601 Universal Blvd. (not confirmed for 2018)
Trattoria del Porto, 407-503-3463
Easter Sunday champagne buffet includes entertainment from Universal Orlando characters, face painter and strolling musicians.