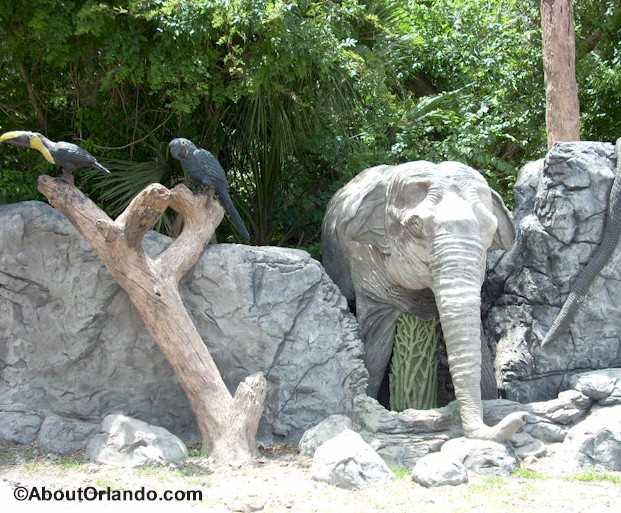 Here is a taste of the many annual events celebrated at the zoo. Be sure to include the holiday fun times with the Halloween Zoo Boo Bash where you will come face to face with red spitting cobras and enjoy a winter holiday fun Breakfast with Santa.
When registration is required call 407/323-4450, ext. 123.
Annual Events at the Central Florida Zoo Include:
March or April
Hippity Hop Adventure
Hop along the Adventure Trail to find clues leading to the Easter Bunny. Win candy, prizes and surprises at Bunny Stops along the trail. Be sure to meet the Easter Bunny. Kids receive free bunny tails to wear and enjoy crafts, a bounce house and more.
April
Brews Around the ZOO
An International Tasting of Food, Wines, Beer.
Stroll through the Zoo and sample a wide variety of unique Anheuser-Busch beers from around the world. You'll also be able to enjoy delectable wines, regional cuisine, authentic international music, and encounter many animals from around the globe. Must be 21 or older to attend.
August
Wild Art & Wine
Art instruction for creating your own animal masterpiece as you enjoy wine and hors d'oeuvres at a special evening at the zoo.
September
Night Hike at the Zoo!
Enjoy the zoo after hours for a unique experience. Nighttime sights and sounds as you explore the zoo on a guided flashlight tour.
October
ZOO Boo Bash
Trick or treat in the wildest neighborhood in town during the Central Florida
Zoo's ZOO Boo Bash. It's a safe, fun, and not-too-scary event for young and old
alike. Kids are invited to bring goodie bags and wear costumes for trick or
treat stations. If you forget your costume, face painting will be available.
Take a haunted hayride, visit the Pumpkin Patch for a fun photo, and learn about
the myths and realities of some misunderstood animals.
December
Breakfast (or brunch) with Santa
Meet Santa at the Central Florida Zoo. There will be lots of fun holiday cheer
and activities for the whole family. Share your holiday wishes with Santa and
enjoy up-close animal encounters. After breakfast everyone can enjoy creating a
special animal treat and then watch as the Zoo Keepers give the animals these
special holiday gifts that were made.